Banner Stands DC
Tuesday, October 14, 2014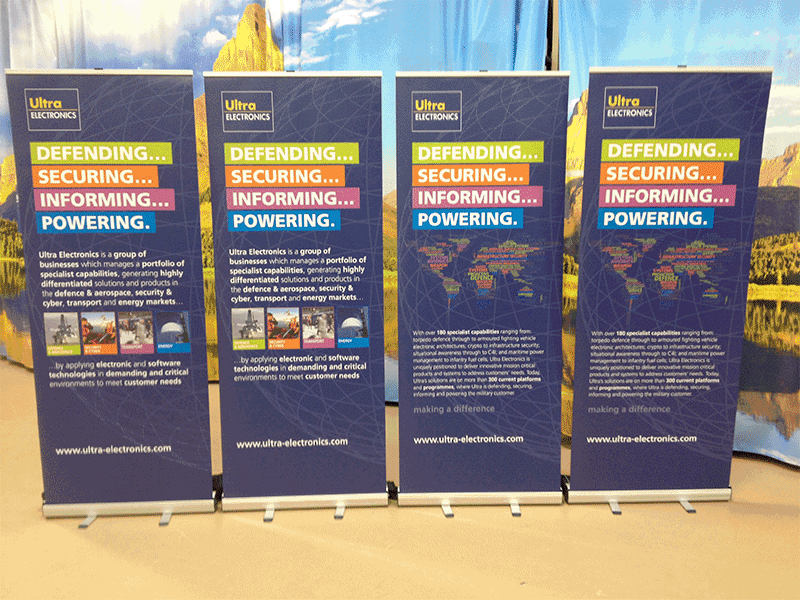 Heritage Printing & Graphics banner stands are seen at nearly every business expo and convention that encourages vendors to setup a booth and display their wares!  Why, because we provide a variety of banner stands at affordable rates and our Expedited Services exceed expectations for all those "Last Minute" "I NEED IT NOW" banner orders.
HUGE banners and backdrops are an exceptional marketing tool for tradeshows, conventions, events and retail point of purchase.  Make an impact people will remember with a vibrant oversized fabric or vinyl graphic with your brand and products displayed for everyone in attendance to see.
Adjustable Banner Stands
The adjustable capabilities of our step and repeat banner stands provide for lots of flexibility for all occasions and events.  Our Pegasus hardware is portable, fitting in a small provided bag, for easy transport.  It's easy to assemble and disassemble, and the adjustable, telescopic poles allow for presentations as wide as 94" x 94" and as small as 52" x 36".
These large banners are printed on fabric or vinyl, in a single or double sided print for maximum exposure.  All stands are available in a silver or silk black finish.
Our Retractable banner stands (AKA: Roll-Up Banner Stands or Pop Ups) have a mechanism that rolls the vinyl graphic banner much like a window blind at your home.  For most situations a retractable banner stand will provide you with the most affordable, most portable presentation available.
Retractable banners are perfect for presentations, meetings, trade shows, conventions and point of purchase.  The base is constructed with heavy-duty aluminum and molded plates and will last for years in most cases.  We also offer to replace the vinyl banner if it becomes out of date or unusable for any reason.
#BannerStandsDC
Joe Gass
Heritage Printing & Graphics
2639 Connecticut Ave NW, Washington DC 20008 (202) 609-9761
2739 Interstate Street, Charlotte NC 28208 (704) 551-0700
22725 Washington Street, Leonardtown, MD 20650 (888) 777-9776