Bullfrog Bagels Leaps on Capitol Hill
Thursday, December 1, 2016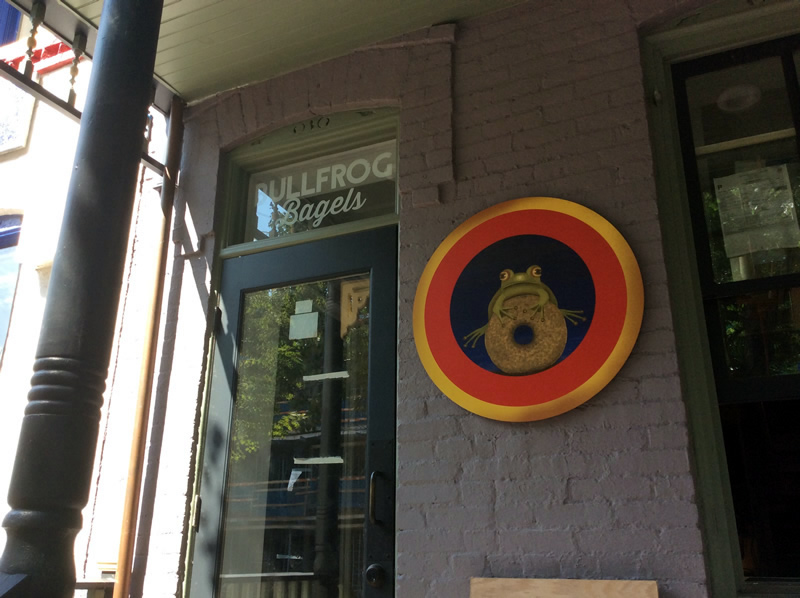 bullfrog
/ˈʊlˌfrɒɡ/
noun
Any of various large frogs, such as Rana catesbeiana (American bullfrog), having a loud deep croak
bagel
/ˈbeɪɡəl/
noun
A hard-ring-shaped bread roll, characteristic of Jewish baking
Bullfrog + Bagel = Capitol Hill's best
new breakfast nook!
Sept. 10, 2016, Bullfrog Bagels Leaps on Capitol Hill and the DC faithful will never be the same.
The opening of the new bagel shop was long anticipated by the DC inhabitants. Jeremiah Cohen, Bullfrogs' baker & owner, sold his tasty bagels at local markets while the Bullfrog location underwent renovation in 317, 7th Street SE in DC. The Cohen family is well known restaurateurs in the DC area, there was never a doubt regarding the success of Bullfrog Bagels.
Deirdre Cohalan, an independent graphic designer, created the bullfrog logo from an inspirational painting Jeremiah acquired from long-time friend Jonathan Blum. Deirdre contacted James Zambrano and Steve Bailey at Heritage Printing regarding the exterior signage for Bullfrog Bagels.

The project was originally a single install, but a few well-asked questions to Steve about Heritage and our services led to a second and third phase:
Phase 1:
Custom printed, and cut in the shape of a bagel, ACM standoff sign mounted to the building
Chain-hung pole sign near the sidewalk
Vinyl window graphics of the brand over the entrance doorway
Phase 2:
Phase 3:
4, 36" x 48" custom poster prints mounted on snap-frames


From the Press section at: www.BullfrogBagels.com
"This is a native Washingtonian bagel," Jeremiah says of his recipe. "It's using DC tap water and using wild yeast that lives in the city from the air, and so this is much more of a Washington, DC, bagel than a New York bagel. Although the bagel seems like a very simple thing, it gets complicated when people say, 'Well, what kind of bagel is it?' It may be that those bagels are really unique to their cities, and this bagel is really unique to Washington, DC." Even the baker himself is a Washingtonian, born and bred.
Jeremiah says that the fermentation that takes place with a starter and the local yeast drawn from the air allows the dough to develop flavors it might not otherwise. "They take on secondary and tertiary flavor profiles," he says. "It doesn't just taste like Wonder Bread. It actually takes on character like a nice wine."
"Let's just say that with enough fiddling, experimentation and reading literature about bagel making, I sort of came up with my own recipe, and it seems to be pretty popular," he says. "I think it might need some more tweaking, but I feel like I've really come up with something." Read the article in its entirety.
James Zambrano, project coordinator at Heritage Printing and self-proclaimed bagel connoisseur, helped Deirdre prepare her files for print, while co-worker Steve Bailey printed and installed the 10 signs at the Bullfrog.
Quote from Deirdre: "James Zambrano and Steve Bailey have been a delight to work with… Steve is unbelievably nice to work with and has done an excellent job."
Kevin Smith
Marketing Manager
Heritage Printing