Character Cut Outs
Tuesday, December 9, 2014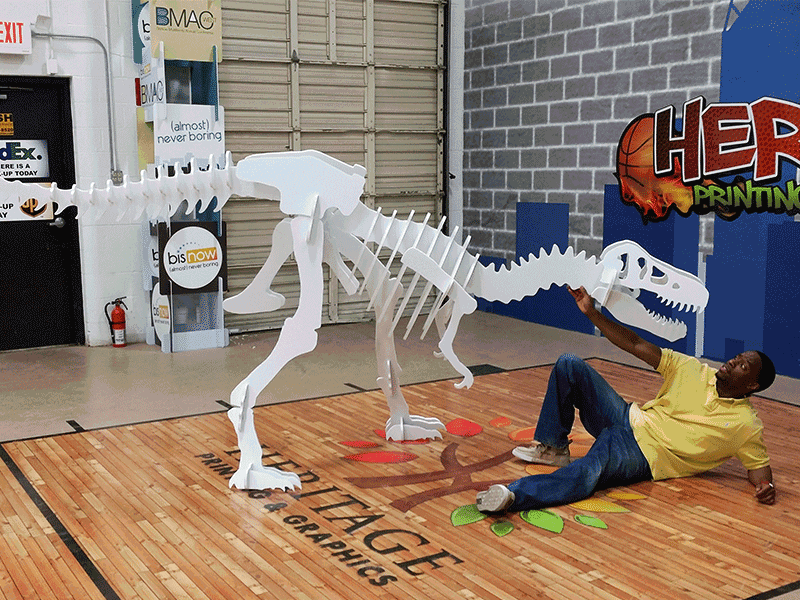 Character cut outs can take many forms and can be used for many different applications.  They might become wedding props, point of purchase products, event displays and even life-size cutouts of your favorite person or maybe a 17 foot long dinosaur protecting your room!  As technology has advanced to allow for printing beautiful, high resolution images directly to rigid materials that can also be cut out with precision, the popularity of custom cut outs has exploded.
There is no "one size fits all" scenario with life size cut outs, the materials selected are critical to the sturdiness and durability of your display.  We stock an array of materials to provide you with the quality, durability and stability your display requires for your unique environment.  We use a wide variety of rigid materials to produce our structures depending on need and application.  Each life size cut out comes with a custom stand that is easy to assemble.
Materials we use:
Foam Board
Corrugated Plastic
PVC
Aluminum Composite Material
Wood
Cardboard (up to ½" thick)
There are numerous applications where life size cut outs and displays can be utilized to communicate your message in an effective way.  Custom life size displays and cut outs are impressive tools to gain attention and sell your products and services!  Life size cut outs are perfect for trade shows, point of purchase and events.
If you have an idea, we will try our best to "cut" it out of your imagination and make it a reality!  Contact us today to see how we can help you create some awesome cut outs for your next campaign or event.
Copyright laws prohibit the replication of famous people, Celebrities, politicians and superheroes without the written permission of the copyright holder.
#LifeSizeCutOuts
Joe Gass
Heritage Printing & Graphics
2639 Connecticut Ave NW, Washington DC 20008 (202) 609-9761
2739 Interstate Street, Charlotte NC 28208 (704) 551-0700
22725 Washington Street, Leonardtown, MD 20650 (888) 777-9776