DC Tradeshow Backdrops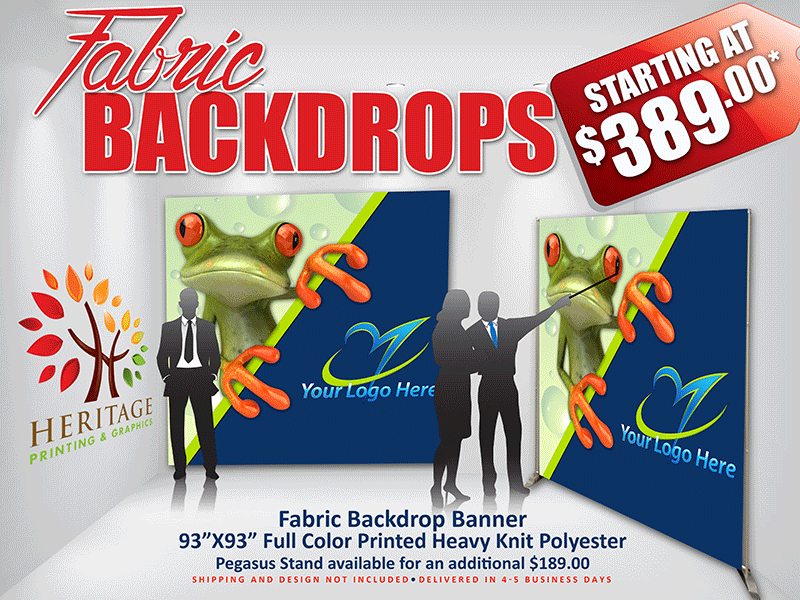 Our extra wide format printers printing capabilities are virtually unlimited; we can print up to 104" wide on a variety of fabrics, banner and vinyl materials.  If you need an XXL Tradeshow Backdrop, we can manufacture it for you.  Our tradeshow backdrops and displays options are tremendous, we can accept literally any custom backdrop order imaginable.  We also manufacture smaller backdrops in a variety of fabrics and vinyl for vendor booths and displays.
SUPER LARGE fabric backdrops are especially attractive at our local DC events, with convention areas so huge, an enormous backdrop is almost required to cast that lasting impression on your tradeshow visitors and vendors.
We offer a variety of fabrics for various usages:
Durable Fabrics
One Sided Print
Portable and Reusable
Soft Touch Fabrics
Two Sided with No "See Thru" Print
Wrinkle Free Fabrics
Custom printed tradeshow backdrops can be designed and developed according to your specifications and if just have an idea and need help facilitating it, our creative service team of designers and graphic artists can assist.
Mounting is never a problem, we provide the mounting apparatus designed for your backdrop, whether it is using a hardware frame, grommets for curtain style hanging or fabricated with pole pockets, we can offer a great solution for your specific needs.  Regardless of your mounting or display needs, we have the experience, equipment and skills to make you look great at your next event!
Ask about our Specials on Fabric Tradeshow Backdrops and our expedited services for super-fast production and delivery.
#DCTradeshowBackdrops
Joe Gass
Heritage Printing & Graphics
2639 Connecticut Ave NW, Washington DC 20008 (202) 609-9761
2739 Interstate Street, Charlotte NC 28208 (704) 551-0700
22725 Washington Street, Leonardtown, MD 20650 (888) 777-9776