Heritage Printing & Graphics Launches NEW Website
Tuesday, February 25, 2014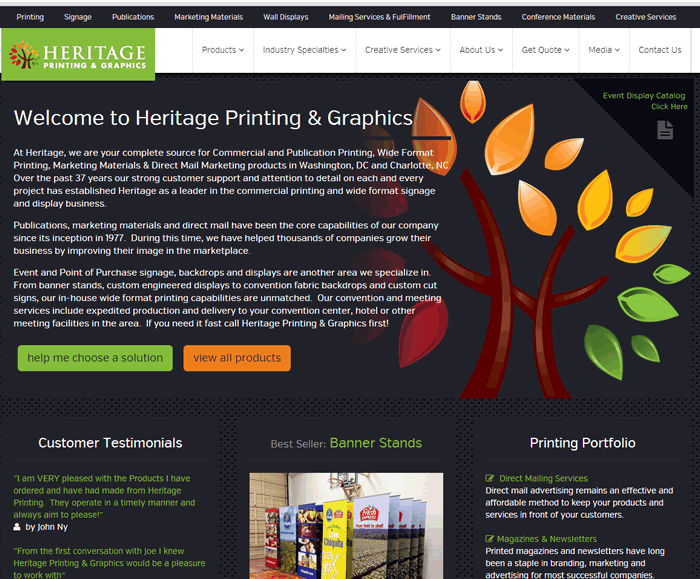 It is with great admiration and pride that we launch our latest addition to the Heritage Printing & Graphics online presence, a New Website!
The magnificently redesigned new HeritagePrinting.com was launched in mid-January, with our sister facility in Charlotte, NC launching its new website the following month.  Today, we are ecstatic to say we have solidified our online presence with the fantastic work of our marketing team and staff.  Their efforts to redesign and re-configure the two websites and defragment our ever growing online presence, is a testimony to the high quality of personnel we are happy to work with here at Heritage Printing & Graphics.
The previous website (built over eight years ago) served a phenomenal purpose, enabling our web visitors to view numerous products, communicate with us digitally, order directly from the site and provide us with the data necessary to customize their orders, todays new website does all that and much more!
The emphasis of our new website is the imagery, information, products and services.  As we entered into the sign manufacturing industry several years earlier, it was time our website reflected the new expanded line of products we offer here in Washington, DC.
Our goal is to be the first choice for high quality marketing materials in the Washington, DC area, Charlotte, NC metro and the entire east coast!  We are numerous steps closer to accomplishing our goals with our vastly improved online presence.
I personally invite everyone to re-visit our new website on a regular basis as we add news, information regarding our efforts in the community and our support of the Heritage Printing charities and new product lines.  This latest version of HeritagePrinting.com will be a dynamic online representation of our team and facilities.
Joe Gass
Heritage Printing & Graphics
2639 Connecticut Ave NW, Washington DC 20008 (202) 609-9761
2739 Interstate Street, Charlotte NC 28208 (704) 551-0700
22725 Washington Street, Leonardtown, MD 20650 (888) 777-9776