HOW PRINTERS ARE TRANSFORMING: THE HERITAGE PRINTING & GRAPHICS STORY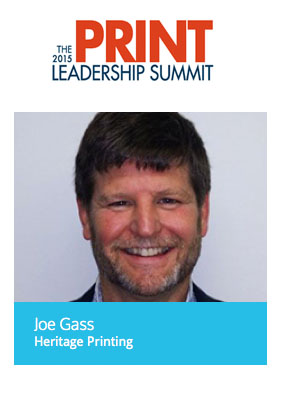 I was speechless after receiving the invitation to speak at the 2015 Print Leadership Summit. This is event, being held next month in Minneapolis, MN, is an annual national conference were leaders in the print industry discuss ways to improve their businesses through innovation, technology and improved leadership development.  To be one of the twenty or so speakers at this three day event is a great honor.
Here is a snippet of the blog article that was placed on the Printing Industries of America website to highlight my speaking at their National Leadership Summit next month in Minneapolis.  Click here to read the full post…
In the beginning, there were printers. Then as technologies and economies transformed, we emerged into a digital world as … printers. The point is that no matter how you describe your business today—a marketing service provider, packaging solutions firm, display graphics enterprise, etc.—we are all still printers, but how we got here brings us to sharing this transformation story…
The 2015 Print Leadership Summit is the event for printers, by printers. In this blog series we will explore transformation stories of some of our most notable speakers, so you can discover fresh ways to reinvigorate your business.
If you've ever wondered what it would be like to leave the strain of daily operations and get a fresh perspective, you'll want to ready this story.
Over the course of nearly four decades, Heritage Printing & Graphics, led by President and Co-Owner Joe Gass, has seen plenty of transition. Along the way Heritage has identified itself as a quick printer, then a commercial printer, and today with the addition of wide- and grand-format capabilities, a visual communication company. During this time Heritage has grown geographically from Leonardtown, Maryland, a suburb of Washington, DC, south to add a production facility in Charlotte, North Carolina.  Click here to download the 2015 Printing Summit brochure in a .PDF…
#Printers
Heritage Printing & Graphics
2639 Connecticut Ave NW, Washington DC 20008 (202) 609-9761
2739 Interstate Street, Charlotte NC 28208 (704) 551-0700
22725 Washington Street, Leonardtown, MD 20650 (888) 777-9776