How to Install a Cut Vinyl Decal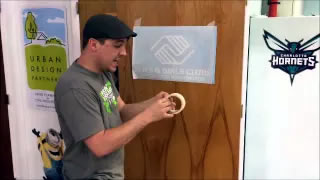 In this Heritage Printing & Graphics video, produced by our Charlotte NC facility Art Director: Chris Cannon,  Chris shows us how to install a vinyl adhesive transfer decal using the hinge method.  Click here or the image to watch the video…
Vinyl decals are contour cut with the unneeded, excess vinyl "weeded" away.
 A pre-mask is then applied to hold all individual vinyl pieces in position.
 Clean and prepare the surface to remove any; oils, dust, debris, or fingerprints (if applied to glass). You want a clean and smooth surface for best results.
 Tools Needed: Squeegee (we will supply one on request) Masking Tape, Tape Measure or Level.
 Using 2 pieces of masking tape, one in each top corner, "eyeball" the decal in position and gently tape to the surface. With the tape measure (or level) use the text on the decal as a guide to set the decal straight. Chris measures from the top of the door to a letter on each end and adjusts the decal for accuracy.
 Create a hinge with a piece of the masking tape across the top of the decal. The hinge will keep the decal straight and in position during the wax paper removal and application process. Flip the decal up on the hinge and gently remove the wax paper backing.
 With the wax paper removed, use the squeegee and start the application process at the top middle of the decal and work out. Notice how Chris only adheres portions of the decal as the slowly works his way to the bottom. Now take the squeegee and apply adequate pressure across all portions of the decal, thus adhering it to the surface.
 Slowly remove the premask. Make certain to pull slowly, with the mask flat against the surface. Pulling outward greatly increases the possibility of ripping the decal or pulling it away from the surface.
Click on these links to learn more about our adhesive vinyl products and services.
Adhesive Vinyl Graphics: Click here…
Custom Cut Decals: Click here…
Thank you for visiting our website and watching our video.  Consider signing up for our Newsletter for more interesting activities from Heritage Printing.  Click here to sign up.
#VinylDecals
Joe Gass
Heritage Printing & Graphics
2639 Connecticut Ave NW, Washington DC 20008 (202) 609-9761
2739 Interstate Street, Charlotte NC 28208 (704) 551-0700
22725 Washington Street, Leonardtown, MD 20650 (888) 777-9776