Leonardtown Printer Donates Historical Display to SMCPS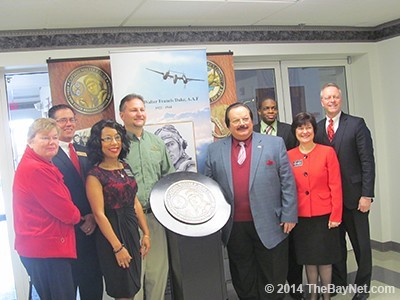 At Heritage Printing & Graphics, we strive to give back to our community.  We feel very passionately about schools, military servants and organizations that strive to enhance our local communities.
Here is a recent article regarding my brother Steve Gass and a donation he made on behalf of Heritage Printing to St. Mary's County Public Schools (SMCPS).  I hope you enjoy the article.
Steve Gass (left of display) is joined by school board members and Superintendent Dr. Michael Martirano (r)
A Leonardtown printing company has made a donation to St. Mary's County Public Schools (SMCPS) that will eventually be on display at the Captain Walter Francis Duke Elementary School, now under construction.
The display on Captain Duke's life and legacy was in the window of Heritage Printing & Graphics on Washington Street in downtown Leonardtown.  School Superintendent Dr. Michael Martirano said he walked by the window one day and saw the display and admired it.
Well, Steve Gass, one of the sons of the company's founders Allen and Margaret Gass, has donated that display to the school system.  It can now be seen in the lobby of the SMCPS headquarters on Moakley Street and will be moved to the new school when it opens.
Gass told the school board at their regular meeting on Tuesday that he grew up in Leonardtown and heard about Captain Duke.  He said his family is "very much a military family" and appreciates the heroics of Leonardtown's homegrown hero.  "Naming the school was the best thing anybody could do," he said.
Heritage Printing has two locations, in Leonardtown and Charlotte, NC, with Steve's brother Joe running the Charlotte facility.
Captain Walter Francis Duke was a World War II flying ace who's P-38 was shot down on June 6, 1944.  A plane with a number matching his P-38 was found in 2012 in a cleared jungle in what is now Myanmar.  Duke's family is awaiting the return of his remains for proper burial.
During a break in the school board meetings, Gass joined the board members and superintendent for a picture in front of the display in the lobby.
Joe Gass
Heritage Printing & Graphics
2639 Connecticut Ave NW, Washington DC 20008 (202) 609-9761
2739 Interstate Street, Charlotte NC 28208 (704) 551-0700
22725 Washington Street, Leonardtown, MD 20650 (888) 777-9776