Portable Fabric Backdrops
Thursday, February 26, 2015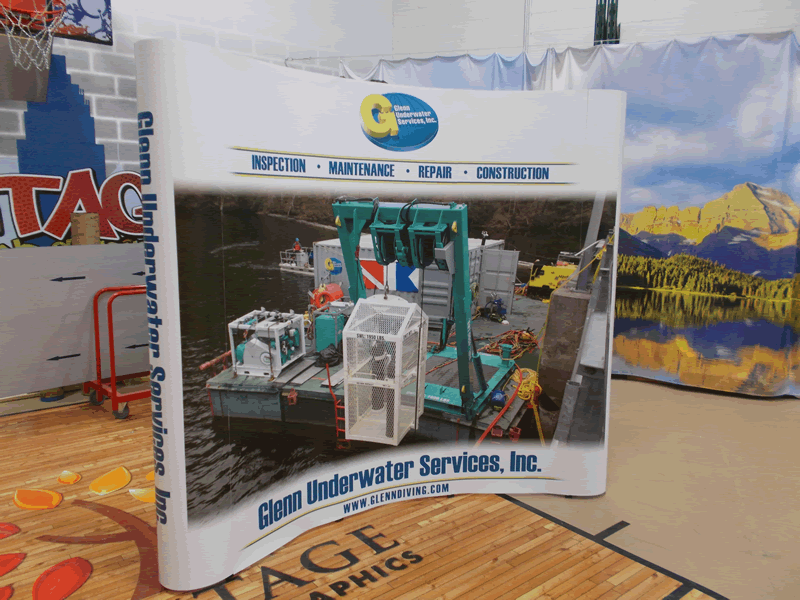 Tradeshow vendors know the importance of "Standing Out" and "Rememberable".  Potential customers that remember your booth will be more inclined to "Google" your business for products and services.
Portable fabric backdrops are an excellent addition to any tradeshow booth that literally guarantee to get you remembered!  Hi, Joe Gass here again, and today we will delve into our portable fabric backdrops, but more specifically, our 8' Hop Up line of easy to erect, disassemble, store and transport tradeshow backdrops.
Our 8' Hop Up fabric backdrops are incredible for vendor booths, conventions, media events, picture opportunities, press conferences, lobbies or anywhere you want your products and services to be seen.  We use a higher quality Hop Up hardware that will easily withstand years of conventions and tradeshows and with your custom printed message, company logo and images, it's sure to capture the attention of all passersby.
The fabric is wrinkle-free to stay perfect for numerous events year after year, AND if your message changes, we can easily print another backdrop that will quickly attach to your existing hardware.  Many of our customers purchase several unique fabric backdrops with only 1 hardware, this enables them to send specific messages at individual events.  We also safely store your files for quick edits and reprints.
The Hop Up is always a quick set up, pack up and storage for easy transportation.  Our 8' Hop Up backdrop is one of our more popular fabric backdrop models due to its versatility, ease of transport, reusable nature, and quick production time.  We also offer the larger 10' Hop Up for those times when you need something extra.
Fabric Backdrop Applications:
Step & Repeat Backdrops
Charity Events
Conventions and Meetings
Sporting Events
Trade Shows
Weddings
In a hurry???  Ask about our Expedited Services for Super-Fast, In Your Hands Quick customer service!  If ordered and approved by 10am*, we can have it in your hands the next business day anywhere on the east coast from NY to Atlanta!
Order our 8' Hop Up Step & Repeat Fabric Backdrop for
Videos, Media, Press Conferences & More…
Our creative services team of graphic artists are here to help you create and design a tradeshow backdrop that will have the other vendors looking and talking about you!
#FabricBackdrops
*Orders must be approved for production by 10am for next day service.
Joe Gass
Heritage Printing & Graphics
2639 Connecticut Ave NW, Washington DC 20008 (202) 609-9761
2739 Interstate Street, Charlotte NC 28208 (704) 551-0700
22725 Washington Street, Leonardtown, MD 20650 (888) 777-9776