Presidents' Day at Heritage Printing
Monday, February 15, 2016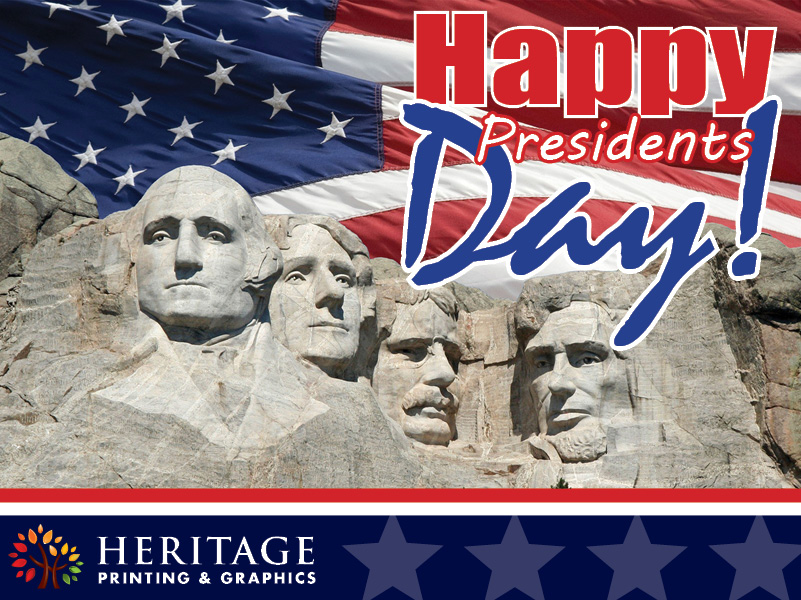 THIS POST WAS SHARED FROM OUR SISTER SITE: www.heritageprintingcharlotte.com/blog
Today, we celebrate Presidents' Day in recognition of the 1st President of the United States; George Washington. Presidents Day originated in the 1800's to recognize President Washington as the important American figure he had become.
Hi, Kevin Smith here again and today we delve into our history books to learn more about Presidents Day. I hope you enjoy the lesson and check back often for more from the keyboard of Heritage Printing's Marketing Manager.
Unlike today, where world-wide communication is literally seconds away, news traveled slowly in the 1800's, it may be several weeks to a month before significant news and information reached across our nation, and it was more "word of mouth" back then which also left for an amount of elaboration in the news. Nonetheless, and rightfully so, President George Washington was revered as a great man, loved by Americans and every opportunity to celebrate his contribution to our cause is glorified.
The leaders of our country wanted to celebrate our late president and felt his birthdate was an appropriate place to start, so February 22nd was chosen as a national holiday and unofficially named Washington's Birthday in 1800, it was in 1870 that it became a federal holiday.
Only the District of Columbia recognized the federal holiday initially, until 1885 when it was expanded to the entire nation. Arkansas Senator Steven Wallace Dorsey suggested the change to official federal holiday and it was signed into law by our 19th president, Rutherford B. Hayes.
Another renowned American figure, Abraham Lincoln, also has a holiday recognized on his birthdate (February 12th). Since both President Washington's birthday and President Lincoln's birthday are so close together (10 days), the perception to change the holidays name to "Presidents Day" was adopted as part of the Uniform Monday Holiday Act.
The Uniform Monday Holiday Act
In the late 1960's, Illinois Senator Robert McClory suggested the Uniform Monday Holiday Act to change numerous federal holidays to a more uniform date that was always on a predetermined Monday.
Many saw the proposal as an attempt to create more "3-Day-Weekends" for federal employees, but Senator McClory made two valid points to his offer:
Reduce federal employee absenteeism
Generate more retail sales
Senator McClory also advocated the holiday name change to Presidents' Day, which was vastly opposed by Virginia and Illinois, being the birthplace of President Washington and President Lincoln. Both states had long celebrated the respected birthdays and fought against the act to combine the holidays and give equal recognition to two of America's most famous statesmen. To no avail, the main piece of the Uniform Monday Holiday Act passed and officially took effect in 1971, following an executive order from President Richard Nixon.
"Always on Monday" Holidays
Martin Luther King (January 15)

Washington's Birthday (February 22)

Memorial Day (May 30)

Labor Day (September)

Columbus Day (October 12)

*Veterans Day (November 11)
*Veterans Day was removed from the "always-on-Monday" holiday list, due to widespread criticism, and returned to November 11, by an act of Congress
Some states continue to honor individual holidays for both presidents, while others have officially adopted the holiday as Presidents Day. Regardless of when it is recognized, Presidents' Day is viewed as a day to celebrate all U.S. presidents past and present.
By the early 2000's, more than 25 states had changed the holiday's name on their calendars. Some states used the holiday to customize the event to celebrate other noteworthy figures:
Arkansas celebrates Washington as well as civil rights activist Daisy Gatson Bates
Alabama commemorates Washington and Thomas Jefferson
Currently, Presidents' Day recognize the lives and achievements of all of America's chief executives, some lawmakers debate that by grouping the holidays of George Washington and Abraham Lincoln together, along with less successful presidents, greatly reduces their legacies.
The federal government has continued with the initial embodiment of the holiday as a festivity to recognize our country's first president and the third Monday in February continues to be printed on official calendars as Washington's Birthday.
What did we learn?
Presidents' Day started as Washington's Birthday
It was not nationally recognized initially
Some states customize the day to include other favorable figures
Always on Monday holidays are NOT just 3 day weekends for federal employees
Don't mess with the Veterans!
Kevin Smith
Marketing Manager
Heritage Printing