Red Carpet Backdrops
Thursday, November 19, 2015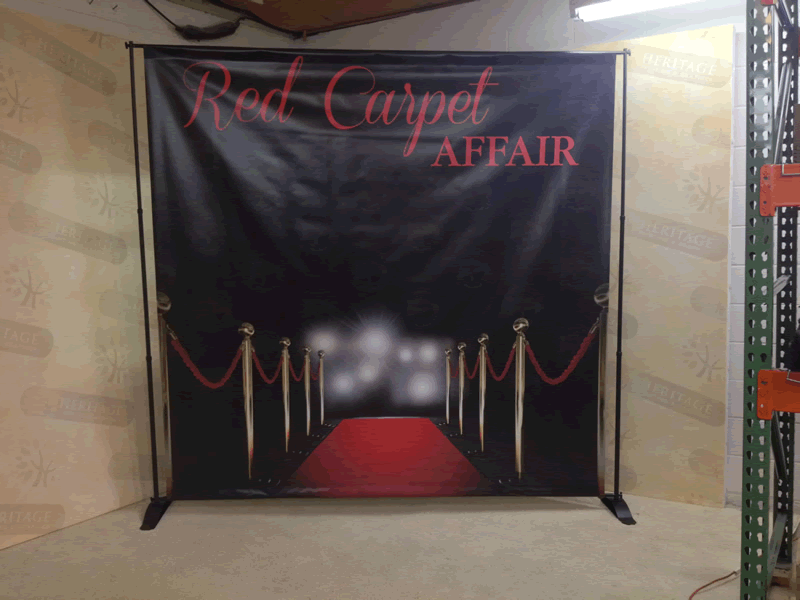 The tuxedo is cleaned and pressed, the gown is perfect, all hair and makeup has been addressed accordingly, and it's time for the big gala, the Red Carpet event of the season!  The limo door opens and the flash begins, IT'S SHOWTIME!
The two of you walk past the roped off paparazzi among all the hoopla of calls for autographs and selfies, just keep smiling and waving a you approach the interview area, Mr. Microphone announces your arrival while you pose for pictures in front of an immaculate backdrop.  You Nailed It!
When the emails and texts arrive on your smartphone, you admire how good the two of you look and you think, wow what a great shot, I've got to get this in print.
That's the short version of what happens at red carpet events when the actor/athlete/actress steps in front of a red carpet backdrop from Heritage Printing & Graphics!  When it has to be right and there's no room for error, Heritage is the place to call for a fabric background.  Our red carpet photography backdrops are perfect for black tie events, weddings, graduations and family reunions.  We can custom print any imagery directly into the fabric for a wrinkle free banner.
We are a Southern Maryland sign company, veteran owned and operated since 1977, our experience is unmatched!  We provide 100% In-House Printing and direct shipping to our customers, their hotel or the event venue in DC.
We have red carpet backdrops for small or large events:
8' x 8'
8' x 10'
8' x 12'
Custom Sizes
Our reusable high quality aluminum banner stands
 are very easy to assemble and will last for years.
Need it Now?
Our Expedited production & shipping services are great for those last minute, must have it now orders.
Reasons why you should consider purchasing High Quality Banners and Backdrops from Heritage Printing & Graphics:
We specialize in Step and Repeat / Red Carpet Fabric Backdrops. Our In-House capability means we drop all middlemen and pass the savings directly to you!
Our production facility in Waldorf, MD is staffed with knowledgeable and dedicated wide format printing experts.
We provide the fastest turn-around time in the digital printing industry, we ship directly to many areas in the United States quickly using Ground or Next Day Overnight Services via FedEx or UPS.
#FabricBackdrops
Kevin Smith
Heritage Printing
Marketing Manager
Charlotte, NC 704-551-0700
Waldorf, MD 301-843-1995
Washington, DC 202-609-9761
Red Carpet Backdrops from Heritage Printing & Graphics