The Beer Institute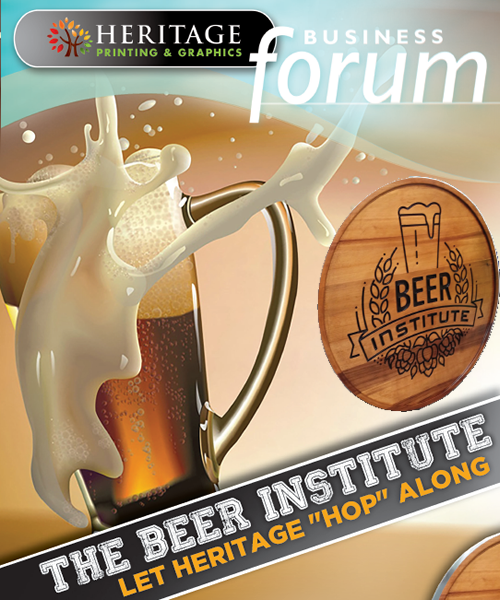 The Beer Institute is a nationally recognized organization founded in 1986 to represent the beer industry before Congress, State Legislatures and public forums across the country. The Institute recently embarked on a revamp of their offices and tradeshow materials with the help of 3 Advertising and Heritage Printing and Graphics. Heritage was honored to be a part of this campaign.
We produced:
Wall Mural:
Our Wall Murals do not use glue or water for install, so no fumes or mess.  We print The Beer Institute logo and adhered it to their conference room wall.  The mural provides a professional atmosphere while emphasizing their brand.  We can print any non-copyrighted image provided by our customers or purchased images.
Life Size Character Cutouts:
The life size cutouts were created from The Beer Institutes high resolution digital images.  We printed directly on coroplast boards for long lasting durability.  All cut outs made by Heritage Printing & Graphics are custom printed and we can CNC cut for accuracy and life like detail and clarity.  Each life size cutout comes with a stand that is easy to use.  Life size cutouts are perfect for trade shows, gifts and pets.
Standoff Mounted Signs:
The 3-D standoff mounted signs display multiple varieties of beer brands in a distinguished look for an interior sign.  There standoff mounted signs are made with Plexi-Glass, we also offer brass and aluminum separators.  At Heritage Printing & Graphics, we provide an assorted array of standoff signs that are customized to fit your needs.  We often incorporate custom cut lettering with company logos onto the acrylic and polished metal surface, it makes for an impressive standoff sign.
Custom Routed Wood Sign:
Our CNC Digital Router was utilized to make the custom wood logo.  The precision and abilities of the digital router enable us to produce an endless array of custom signs.  If we can draw it, we can make it!
If you are interested in what Heritage Printing can do for your company, call either of our production facilities or our DC sales office, a Heritage customer service representative will be happy to speak with you.
#Custom Signs
Joe Gass
Heritage Printing & Graphics
2639 Connecticut Ave NW, Washington DC 20008 (202) 609-9761
2739 Interstate Street, Charlotte NC 28208 (704) 551-0700
22725 Washington Street, Leonardtown, MD 20650 (888) 777-9776