Heritage Printing, Signs & Displays acquires Beacon Printing in Waldorf Maryland
Thursday, October 15, 2015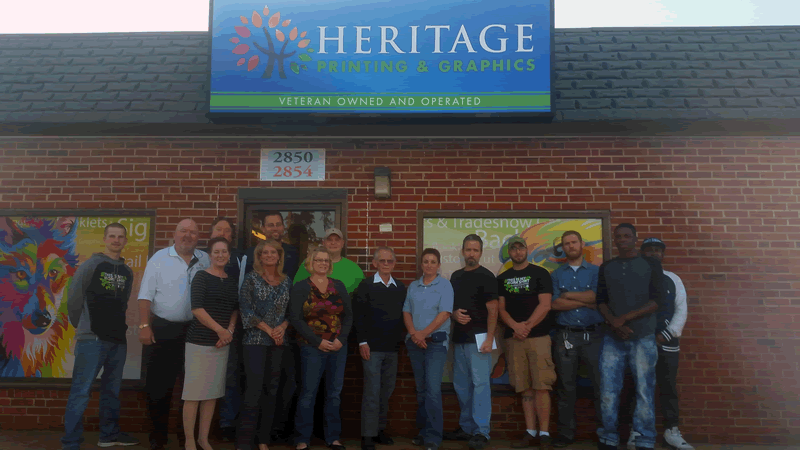 Heritage Printing, Signs & Displays relocates to Waldorf, Maryland
Over the Labor Day weekend Heritage Printing, Signs & Displays relocated from their production facility in Leonardtown, MD into a much needed larger space at 2850 Old Washington Road in Waldorf, Maryland.  This came at the conclusion of an eighteen month search by the Gass brothers to find a larger building that was closer to the Washington, DC area to house their growing commercial printing and custom sign company that was started in their family garage in 1977 in Leonardtown by their parents, Allen and Margaret.
This opportunity was made possible when Heritage Printing, Signs & Displays acquired Beacon Printing in Waldorf, Maryland.  Beacon Printing was established in 1974 and most recently owned by Art Grimes and Wayne Magoon. For many years Heritage Printing, Signs & Displays and Beacon were friendly competitors sharing similar commercial printing capabilities but few of the same customers. Now that they are combined under one roof in Waldorf, they are excited to see how they can benefit their clients with their expanded resources.
Much of the growth that Heritage Printing, Signs & Displays has experienced in recent years has been with the addition of wide format printing in 2009 at their Charlotte, NC facility. The growing demand for high quality, fabric and vinyl event signage, displays and backdrops as well as retail point of purchase, storefront graphics and interior wall displays and window graphics in the Washington, DC market has spurred Heritage Printing, Signs & Displays to add that capability at their Maryland facility several years ago.  The addition of 64" and 104" latex printers that image to vinyl and fabric equally well has been a great asset to our clients in the DC area over the past three years.
With the relocation to expanded space in Waldorf, Heritage Printing, Signs & Displays is now in a position to add UV color flatbed printing on rigid substrates (plastic, metal and wood) up to 5' x 10' as well as CNC flatbed and laser cutting capabilities similar to our abilities in Charlotte, NC.
Heritage Printing, Signs & Displays has also expanded its publication printing capabilities with the addition of the Beacon 23" x 29" Heidelberg CD 74 sheetfed press and installing an eight pocket Stahl ST-100 booklet making system.  Heritage Printing, Signs & Displays President Joe Gass was quoted: "This amazing technology will help us improve on our award winning quality and reduce the time to produce our client's products."
Heritage Printing, Signs & Displays Co-Owner & Operations Manager at Waldorf, Steve Gass said: "We would ask you to drop by our new production facility in Waldorf when you are in the area and let us give you our 50 cent tour and treat you to a meal at a nearby local restaurant."
Joe Gass
Heritage Printing, Signs & Displays
A Veteran Owned Company That Seeks To Honor God By Serving Others
2639 Connecticut Ave NW, Washington DC 20008 (202) 609-9761
2739 Interstate Street, Charlotte NC 28208 (704) 551-0700
2854 Old Washington Road, Waldorf, MD 20601 (301) 843-1995