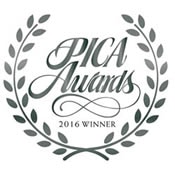 Heritage Printing & Graphics is a veteran owned and operated, award-winning, full-service commercial printing and custom sign & display company operating two production facilities that serve the Washington, DC and Charlotte, NC markets and much of the eastern United States.
Heritage was established in 1977 in the Gass family garage in Leonardtown, Maryland by Allen and Margaret as Gass Printing Service. In 1988, following six years of service in the United States Navy, their son Joe, along with his brother Steve, purchased the company and re-branded it as Heritage Printing & Graphics.
The business operated from various locations in Southern Maryland for the first 38 years, as it grew. During that time, Heritage has built an outstanding reputation for print quality and customer support, having won over 300 printing awards during that time.  In August 2015, Heritage acquired Beacon Printing, and relocated its operations from Leonardtown, MD to the Beacon facility in Waldorf, Maryland.
Since that time, the Waldorf facility has been fully renovated into one of the major print shops in DC, with most of the equipment has been replaced with the latest in printing and imaging technology.  The larger building has also given us the much-needed space to expand our wide format printing capabilities.  The ability to produce high quality signs, backdrops, displays and graphics closer to downtown DC, while also deploying our installers to more quickly get into the city has become an enormous asset for our clients in the DC metro and surrounding areas who typically have very tight production and install schedule to meet.
Our Charlotte presence was established in July of 2008, three years after Joe relocated, with his family, to North Carolina in July of 2005.  Since that time, Heritage Printing & Graphics in Charlotte has quickly established itself as the "go to" wide format printer in the Carolinas winning "Best Wide Format Printing" for 2013 and 2015 and the "Best of Show" for 2016 at the Printing Industries of the Carolinas annual print quality awards competition.
The team in Charlotte opened its first production facility Thanksgiving weekend in 2009, in a small 2,400 sf warehouse space north of town. Today, Heritage occupies a very modern 14,000 sf production facility minutes from one of the busiest airports in the United States. This allows us to produce and ship our products quickly and cost effectively to most areas of the country to meet the most demanding customer schedules.
With growing demand for high quality, fabric and vinyl event signage, displays and backdrops as well as retail point of purchase, storefront graphics, interior wall and window graphics, Heritage launched "Heritage Custom Signs & Displays" with its recent 8,500 sf expansion of its Charlotte production facility and customer response center.
As we celebrate our 40th anniversary during 2017, the Heritage team recognizes that continued success, in an ever-changing marketplace, will only come by providing outstanding and timely solutions for our clients in an affordable manner each day.
Contact us today to see how we can help you grow your company by improving your image in the marketplace. It would be a great honor and privilege for us to be able to serve you with our gifts and ability!