Clear Acrylic signs are more effective than glass!
Acrylic Signs DC
Click here for our acrylic signs FAQ
We make interior lobby signs that command attention and radiate professionalism. Custom acrylic signs, made with standoffs to accentuate your brand, will impress your visitors, staff and executives.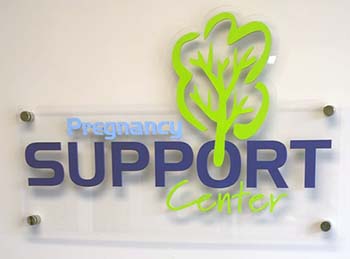 Acrylic plastic substrates are made of Plexiglas, it is a very versatile, man-made material. It can be routed for lettering, etched for intricate designs, or used as a substrate for plastic signs. We offer several colors and depths up to 1". Acrylic is good for wall signs, it is sturdier than glass, at a greatly reduced weight and price, glass lobby signs can cost four times more than an acrylic sign.
Our arts department includes a collection of full-time graphic designers, we can create an original sign design, re-design an existing image or replicate existing acrylic signage. Creative is never an obstacle; our experience spans many decades of artwork. W e believe in transparent communication, it helps provide a smooth and easy sign proofing and producing process.
Our UV inks adhere to the acrylic, not printed to a vinyl and attached like a decal. We provide second surface printing at no additional cost.
---
Acrylic Office Signs
---
We make custom acrylic trophies and acrylic displays!
There are multiple methods for curve cutting acrylic. We own and operate 2 CNC routers and a laser cutter/engraver that can produce dimensional lettering from ¾" to 1" depths and precisely cut/etch any image or brand.
These digital driven technologies can precisely drill the mounting holes and any custom drilling needed for lighting or layering. Customize your lobby sign with 3-D acrylic layer, LED lighting, standoff mounting and various eclectic aspects, including wood.
We offer professional installation, with a guarantee! Your sign will be installed as specified in the work order and backed by our 30-day warranty. We will fix or replace your acrylic sign if damaged, due to negligence on our part, in the manufacturing or installation.
Customer Review via Google+
James was Awesome, he provided great customer service and insured that the graphics would be up in time to meet our tight deadline. The whole team was Great! I can't wait to do business with them again in the near future! Jasmine Eatmon
Read More Reviews...