Full-color booklet printing, ready in 3 to 5 days turnaround time on most orders.
Booklet Printing DC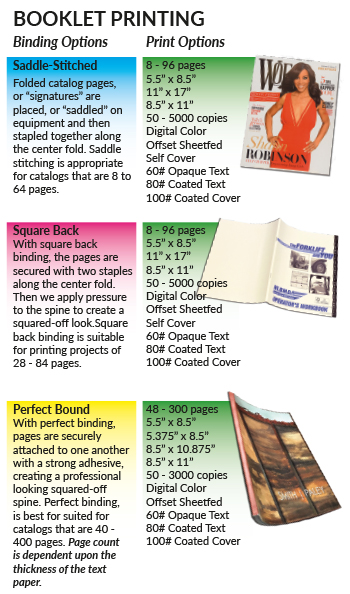 We are custom booklet printers, NOT an online, DIY, automated printing service.
We talk with you to determine what is the best fit for you, we take time to learn your project, this method eliminates most mistakes, delays and stress. If you are looking for an automated solution at cheap prices, we are not a good fit for you. If you seek to have a professional booklet printed, with high quality and personal attention to detail, we are your printer!
High quality large and small booklet printing services. Booklet binding options include: saddle stitch, perfect bound, coil binding and our lay-flat stitched binding. We print *full color booklets easily and affordably! No stress with our custom booklet printing services, we've been printing since 1977, it's easy with us.
Our average booklet is 8 to 96 pages, printed on 80# or 100# paper stock. We offer a variety of cover options, self-cover and card cover are the most popular. All booklets can be saddle stitched or perfect bound and will be printed in full color on our printing presses.
Our custom book printing will represent your products and services with the professional image that will impress any audience. Large 8.5" x 11" to the smaller 6" x 4", your custom booklets will exceed expectations.
Ask about our Publication Mailings service
---
Booklet Photos
---
Contact us today and ask about our expedited production and shipping services. Don't give up; we really can help you make your last-minute, mini booklet printing project happen on time!
We prefer your files be in PDF format, with the crop and bleeds included. We also have graphic designers on staff if needed.
Booklet Printing Services
Annual Reports
Custom Booklets
Catalogs
Company Directories
Medical Books
Program Printing
Software Manuals
Marketing Booklet
Training Manuals
From the catalog printing to the ultra-durable warranty booklets and instruction manuals, we provide offset printing and digital printing, our specialty is self-cover printing booklets and saddle stitch booklet printing. We can satisfy any book printing need, we want to be your regular booklet maker and we go the extra steps to show it.
Your company has never looked better in print! Our top-quality printing presses enable us to guarantee color matching of your provided company Pantone colors. Your logo will be crisp, clear and vibrant on the cover and any subsequent pages. We make certain your saddle stitch book is proofed before print to avoid mistakes.
We're more than just a booklet maker, we are one of the printing companies that care about you and your needs. We have the experience to help you with your saddle stitch booklet printing. Full-Color printing for sports teams, embassies, businesses, non-profit organizations and many more. We have produced high quality printed booklets since 1977.
Our catalog printing services are stress-free, your business booklet or promotional booklet order is important to us and it shows.
Pick it Up or Super-Fast Delivery, we are a local, *full-color booklet printer.
*We are an industry leader in providing affordable color printed publications. Gone are the days of printing black & white to keep your cost down. Today we print in full-color, at prices that are extremely cost effective.
---
Customer Review via Google+
I want to thank James Zambrano, who saved the day for my clients event last week in DC. More like he saved me and made my team and I look amazing. I work in Los Angeles and we are usually on the other end of the phone receiving calls of disastrous situations that need miracle workers and boy was I lucky to find James. There was no hesitation in his voice and we have never worked together before, but he said yes right away and took on my rushed project in no time. I couldn't have done what I came to do without his partnership. Its great to know there are people just like us on the other side of the country who love what they do, care about the people and the quality of work that is sent out. So thank you for "speaking my language" and for "bailing us out". Hope to work together again soon. =) Cheers ! Kelly Olson
Read More Reviews...
---