Wall Graphics DC MD VA & Charlotte, NC
Some people think of walls as protection from the elements. Others see them as barriers. Here at Heritage Printing and Graphics, we see walls as canvases. A bare wall is an opportunity to communicate your brand or speak to your audience in a new and engaging way.

We believe that there is no limit to what you can do with that canvas. That's why we offer multiple types and styles of wall displays, from individual lettering to three-dimensional wallscapes.

We develop every project from scratch, based on your specifications and geared toward your business goals. We understand branding and we look at your commercial wall graphics as part of a larger whole, not just as a space filler.

Let's get started. Find your inspiration and learn how Heritage Printing can transform your interior space with custom wall displays here.
---
---
Wall Murals
At Heritage, we're changing the way people think about murals. Gone are the days when your options were limited to paper or paint - our wall murals are streamlined, dynamic and designed for the 21st-century business or event.

We use high-quality printing techniques and a wide variety of substrates to create images that come to life on your walls. Our murals engage your team and visitors at every turn, reflecting your brand while bringing it to the next level.

We take your photos or artwork and create amazing custom prints that scale well to the space that it is installed. The result is a full-color display of any kind you can imagine, from the communities where you do your work to a forest scene where your team members can find peace and calm.
Interior Wallscapes
A wallscape turns your interior space into a work of art. You can take a room of any size, from the smallest office to the largest convention hall, and make it an experience that visitors will remember long after they leave.

Wallscapes are like nothing you've seen before... unless you've seen what we can do! We use a multitude of printing and graphic design techniques, from vinyl wall decals and custom cut lettering, to create a multilayered mural-style piece that catches the eye without overwhelming the viewer.

Whatever you envision, we can create it. A tropical beach scene for a virtual getaway in the office, a 3D embodiment of your mission statement or even an interactive experience to engage your audience in a whole new way.
Lobby Signage
First impressions matter! After your exterior, your lobby is the first thing people see when then enter your building. Since the space often doubles as an entrance and waiting room for visitors, you need to make the space work for you and your brand. Say goodbye to generic lobby space and let Heritage serve you with lobby signage that's customized to your company. We offer a wide variety of signage types including:

Dimensional lettering
Directional signs
Backlit Standoff Signs
Wall wraps
ADA Braille signs
…and more!
We can even light your signage using energy-efficient and long-lasting LED backlit technology, which illuminates your brand and makes you stand out any hour of the day.

The options are nearly limitless. Call us today and find out what we can do together.
Dimensional Lettering
With our custom-fabricated, 3D-interior lettering, your company name literally reaches out to visitors. Don't settle for basic signage that says nothing about your brand – let us create dynamic acrylic or PVC substrate letters for lobby signs, menu boards, directionals and more.

At our Waldorf manufacturing center just outside of Washington DC, we create dimensional signage of all sizes and shapes. We can print and fabricate dimensional lettering in any hue and custom match any color scheme to your Pantone numbers. We can even add LED lighting to create a backlit or mounted appearance, drawing the eye without overwhelming the space.

Say goodbye to unexciting or generic lettering. With Heritage, your signage can be as unique as you are.
Why Heritage Printing?
Your corporate wall graphics represent your brand just like your team members do, so why would you put any less effort into choosing a printer than you would for a new hire? At Heritage, we're confident that no matter how much research you do, we will continue to stand out from the pack. In a world of bargain online printers with minimal customer service and low-quality materials, we offer the kind of small business service on a national level that is hard to find.

A Veteran-Owned Family Business
We are a veteran-owned family business local to the Washington DC area. Printing professionally since 1977, we began operating under the Heritage name in 1988. We've continued to maintain our attention to detail and have many awards to show for it.

Quality Printing
We know that every printing project reflects on our brand as well as yours, and we take that seriously. We welcome conversations with customers throughout the process, customizing every project to your specifications and always keeping your goals in mind.

Dedicated to providing turnkey print services, we employ an on-site graphic design team to help you develop your vision. We invest in advanced printing technology and guarantee color matching so that everything we create is a perfect match for your brand.

And unlike bargain online printers, we offer on-site installation at hours convenient to you. We finish in less than three hours and leave your space better than we found it.

We are part of your community; and it shows.
Expedited Services
Customer Review via Google+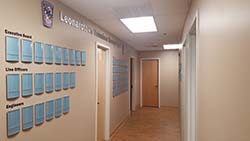 Leonardtown Volunteer EMS has been upgrading our facility for the past few years, almost from the ground up. Eric Gass has been very involved through this process. When it came time to upgrade our membership wall, he presented ideas for a fresh new look and the members were very receptive. He designed and installed the wall, so it will be functional as well as attractive for years without major rework when members change positions. Eric is an asset to LVRS and I'm sure you can appreciate his work ethic and motivation as we do. Thank you for the opportunity to send a huge thank you to Eric and Heritage Printing for your support. It is greatly appreciated. - Rocky Woodburn, Leonardtown Volunteer Rescue Squad
Read More Reviews...