Vinyl window graphics, window perf and custom window displays, all printed and installed at your business!
Window Graphics
Updated 9-6-18
Vinyl window graphic never stop advertising. Properly designed, printed and installed window displays can easily be removed and updated with new messages and graphics. Engage your patrons and invite new ones with custom window stickers. Window clings are easy to install and remove for short term advertising.
DESIGN

Our Creative services team are experienced graphic designers with decades of projects completed. We can design new imagery from your company logo for new advertising campaigns or refurbishing existing ones. We believe in honest, transparent communication, in a manner you prefer. We can email, telephone, text or chat, we conform to your preferred method of communication. We can consistently create window decals and produce outstanding window signage.
PRINT
We have 5 vinyl printers dedicated to custom vinyl decals:
VUTEk GS3250LX Pro (white ink and multilayer print capability)
2 HP Latex 360's
HP Latex 560
Mutoh ValueJet 1638 UH
We consider your window decal printing project very seriously, our goal is complete satisfaction. Some business window signs may have to meet compliance requirements, we guarantee to color match provided Pantone colors and use your provided font.
Our ability to consistently replicate your brand is vital for your marketing. Your brand will be outstanding on a business window decal and/or car window graphics. Window business signs is our target market, we understand window wraps for business and take pride in our production and installation of high quality business window graphics.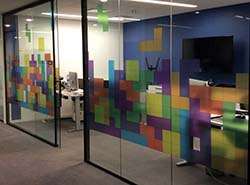 INSTALL
Some window business decals may require professional installation; therefore, we have on staff, full-time employees dedicated to the implementation of your graphics, our network of installation specialists reach nationwide.
---
Gallery
---
FLEET GRAPHICS
Commercial motor vehicles (CMVs) are required to have company name and USDOT numbers affixed to the truck. Our truck window decals will keep you in compliance and our window perf will promote your company without impairing vision. See through car graphics make it easy to show your brand on a car's rear window. Car window decals are as effective as a car wrap at half the cost.
LETTERING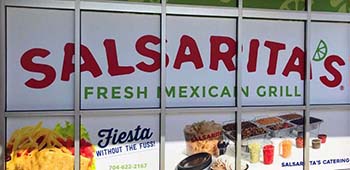 Window lettering for business made easy! Have your store hours, phone and web URL for everyone to see, our custom printed vinyl is so easy to apply that we offer DIY for custom window lettering. We will print, cut and send your custom vinyl window decals to you for installation. Have your brand proudly displayed with custom cut window lettering decals.
WRAPS
Large window graphics, aka window wraps, encompass the entire, or a large portion of the window. We can wrap your windows in a theme, and your storefront windows will entice the attention of passersby.
Rare is an advertisement with better ROI than window graphics for business.