Inter-American Defense College – Project Spotlight
Wednesday, September 13, 2023
Heritage Printing, Signs & Displays recently transformed the interior of the Inter-American Defense College in Washington, DC with impactful wall wraps and standoff mounted signs as part of an immersive timeline wall display. This revitalized interior highlights the college's accomplishments over the years, the potential for future growth, and the college's core values that have guided it since its founding in 1962.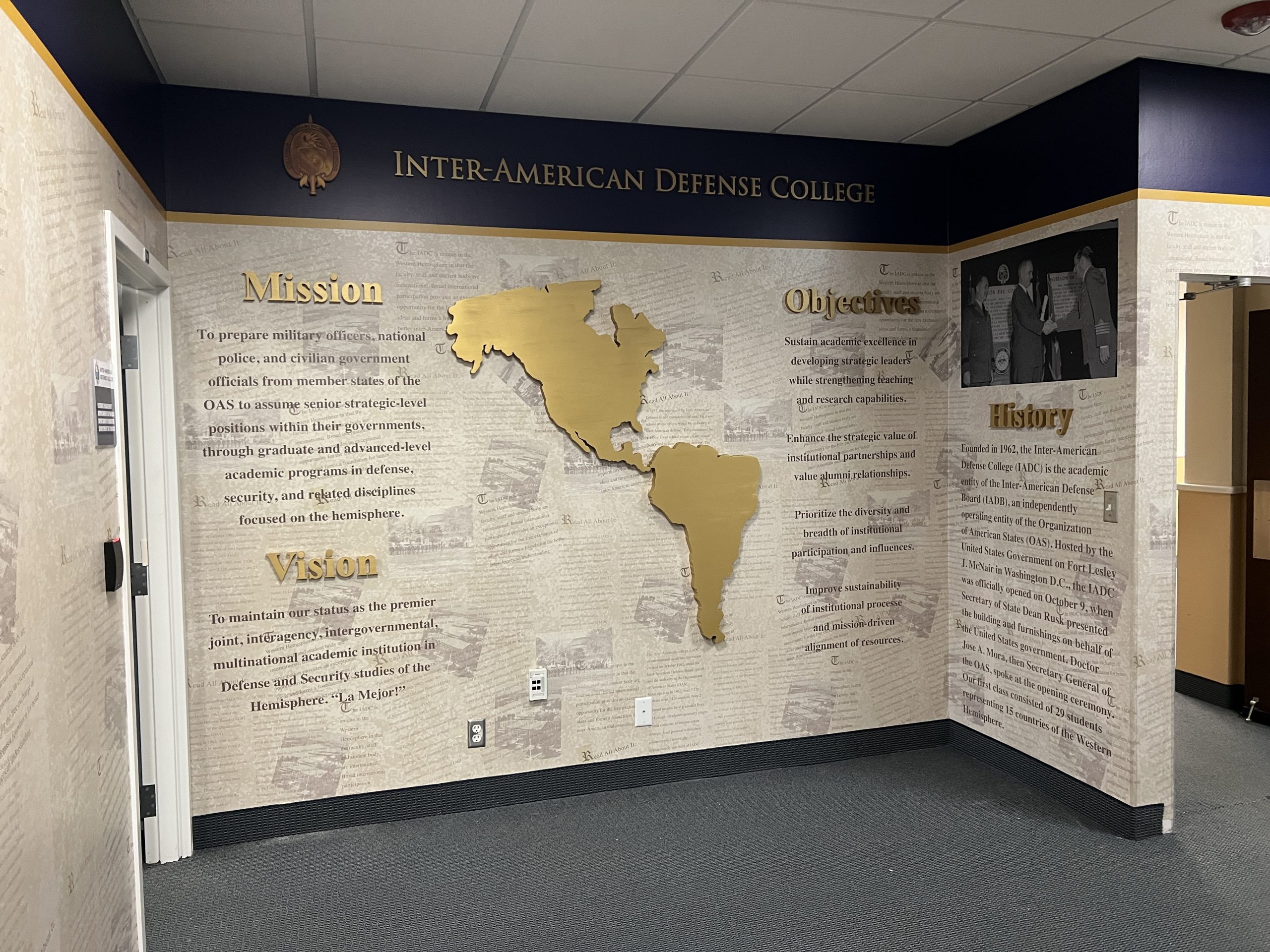 The goal for this major interior design project was to brand the Inter-American Defense College with the important milestones in the college's history and values.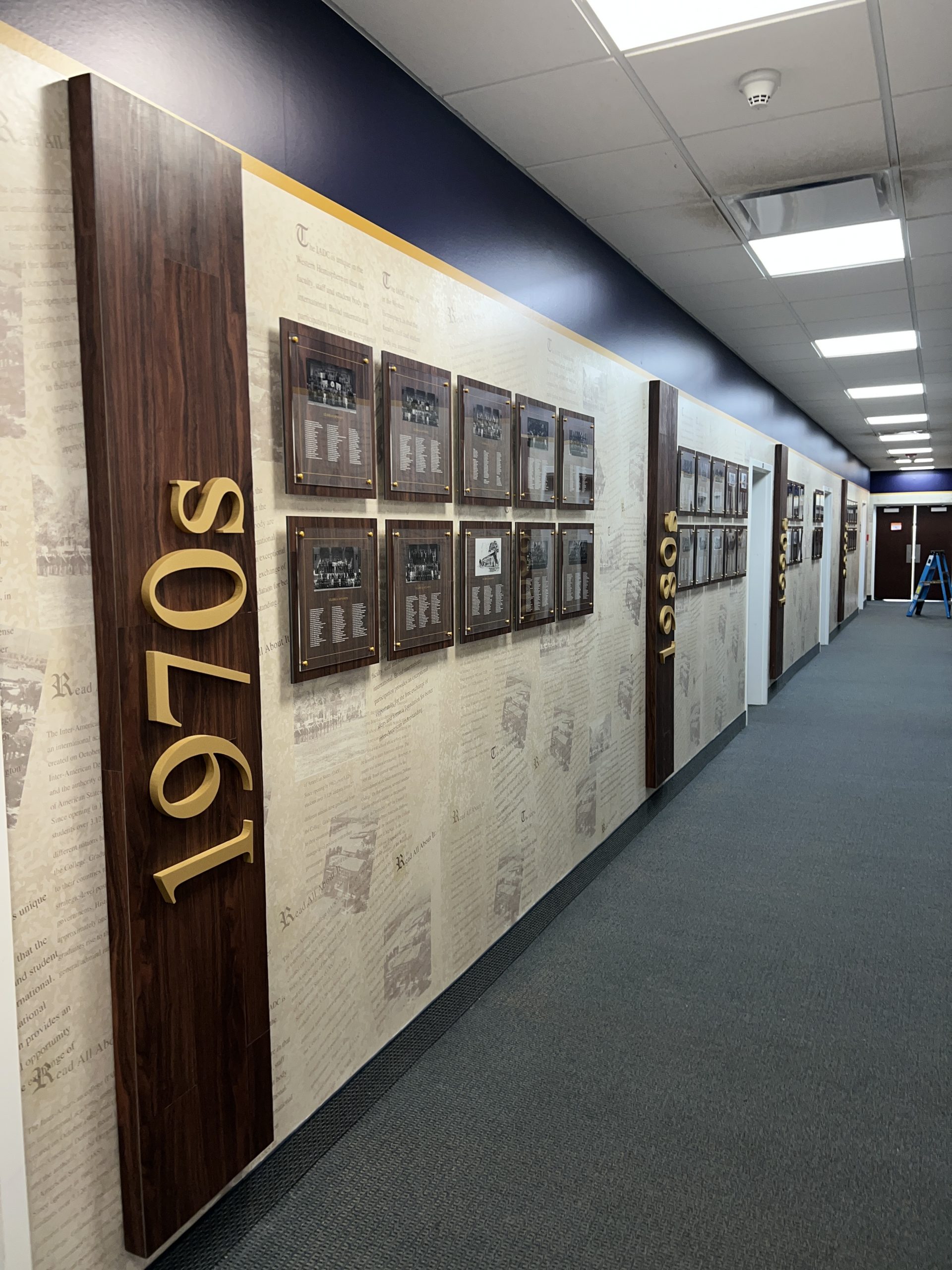 The installation site was conducted inside the college's hallways. The Heritage team printed and installed adhesive vinyl wall wraps measuring 150" x 103", UV printed and rectangular cut, and installed them on the walls to highlight the college's values and achievements. The wraps created an immersive interior space that added visual appeal to the hallways.
Standoff mounts were applied to the walls, creating depth with approximately 2" of space between the plaques and the walls. The plaques were 15" x 15", made of wood, backed with vinyl, and mounted to 6mm white ACM and square cut.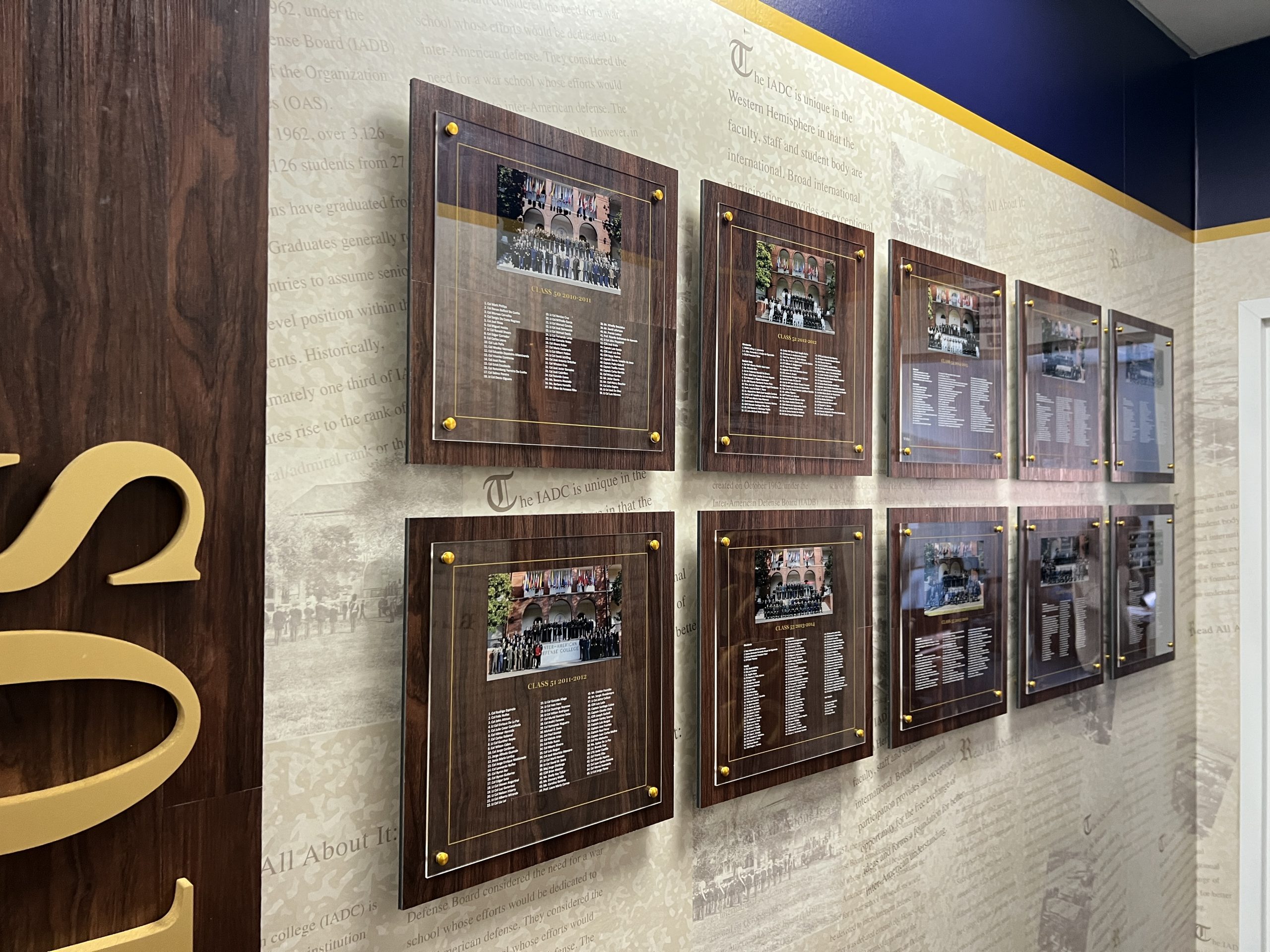 The front panels of the plaques were second surface printed onto 3mm clear acrylic, square cut to 13"x13" and installed with backer using 1/2" brushed gold standoffs.
Additional elements such as dimensional lettering were installed to showcase the college's purpose, mission, vision, core values, and history. A laser cut replica of North America and South America was installed to reflect the Inter-American Defense College's commitment to diversity and intercontinental cooperation.
After the installation was finished, the staff at the Inter-American Defense College was thrilled with the results of the Heritage team's work. The interior space was made more immersive and the organization's core values were made a part of an amplified, branded space.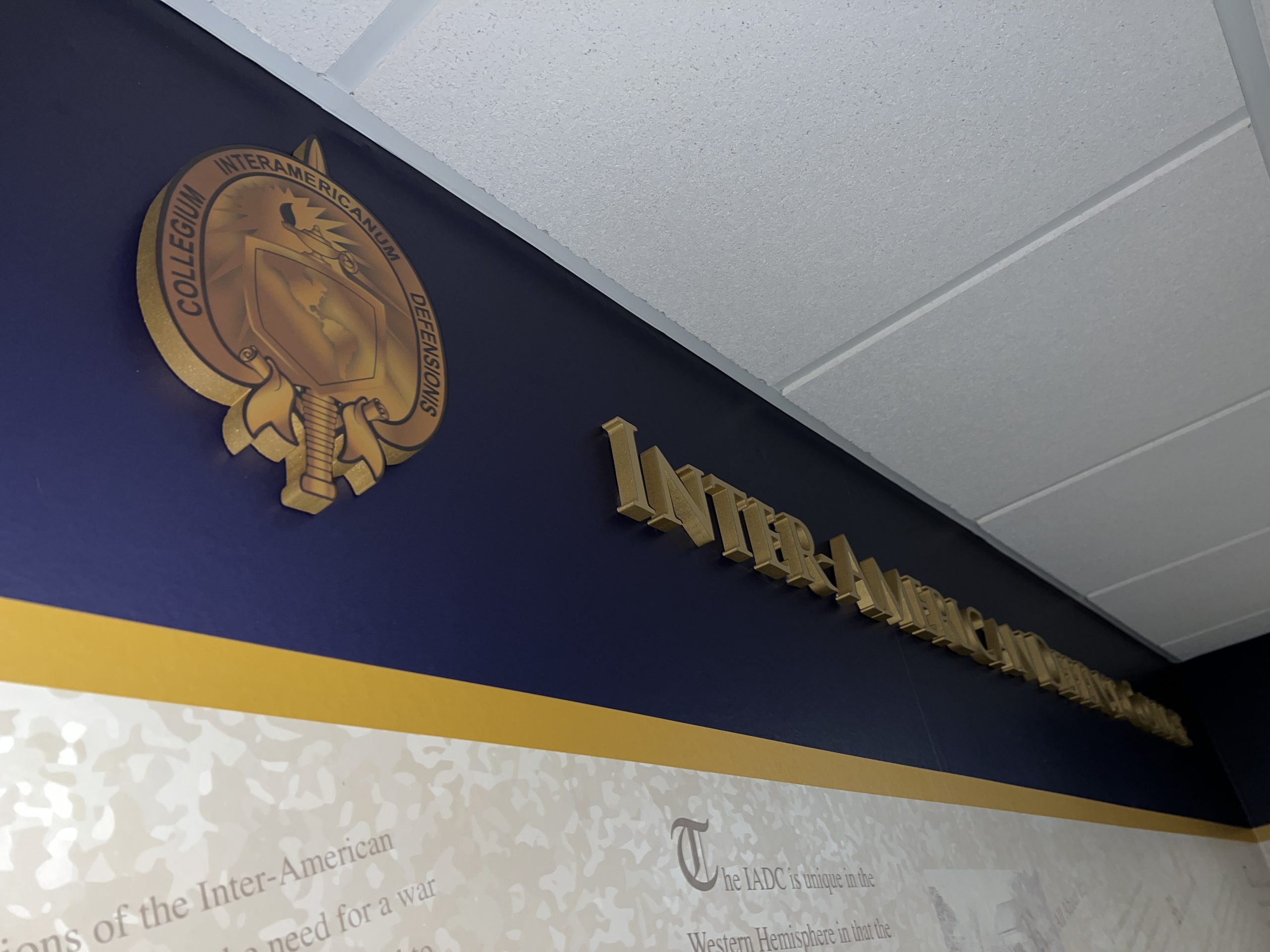 About Our Client
The Inter-American Defense College is an educational organization that's part of the Organization of American States (OAS). Its purpose is to prepare government officials, police, and military offers to assume senior strategic-level positions within governments in the Western Hemisphere and encourage the free exchange of ideas and inter-American understanding.
Heritage Printing, Signs & Displays Produces Award-Winning Signage for Washington, DC Businesses and Organizations
Heritage Printing, Signs & Displays is a local, veteran-owned sign company serving Washington, DC. Heritage is known for quality project management and customer service in support of clients' commercial interior graphics, trade show displays, custom signs, and commercial printing.
To inquire about a project for your business, call Heritage Printing, Signs & Displays at (202) 609-9761 or use the convenient online form to Get a Quote today!
#commercialinteriorgraphics, #tradeshowdisplays, #customsigns, #commercialprinting, #dimensionallettering
Joe Gass
Heritage Printing, Signs & Displays
A Veteran Owned Company That Seeks To Honor God By Serving Others
2639 Connecticut Ave NW, Washington DC 20008 (202) 609-9761
2854 Old Washington Road, Waldorf, MD 20601 (301) 843-1995