Outdoor Mesh Banners DC
Wednesday, September 24, 2014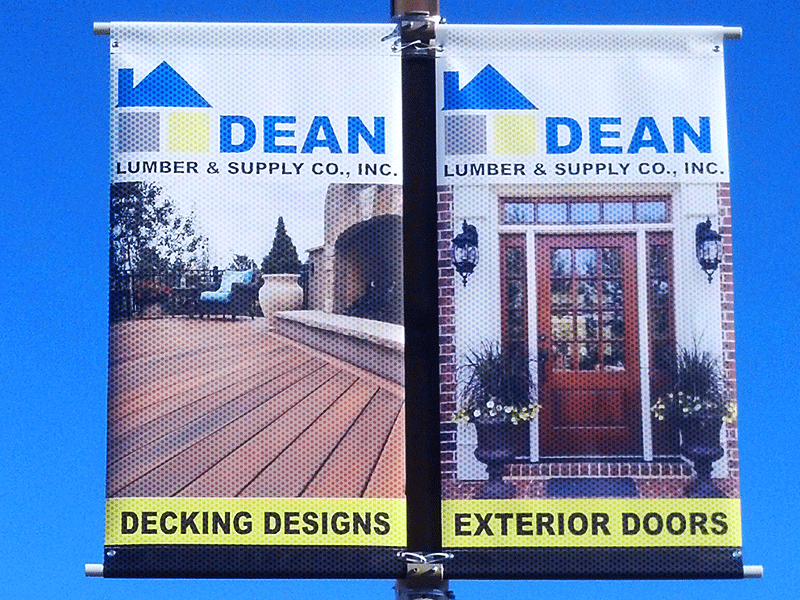 With football in full swing and the fall festivals everywhere, summer has finally changed over to fall and the season of outdoor events are upon us.  There's never been a better time than to promote your product, service or event with one of our outdoor mesh banners!
Joe here again, all excited about football and the fall season.  It's hard to determine who exactly is most excited around my household: Me and my 2 sons because it's football season or my wife and 2 daughters because of the fall festivals.  Either way, we're a very happy and busy bunch these days.
Football games and fall festivals are merely examples of how an outdoor mesh banner is a positive way to advertise for a service or promote a sponsor.  We make a lot of outdoor mesh banners at our DC facility.
Outdoor venues require specialized marketing materials and mesh banners are an often sought after product to effective communicate in weathered environments.  Mesh banners allow the wind to flow through and limit the damaging effects that will naturally occur in an outdoor environment.  Mesh banners outperform vinyl banners for durability, effectiveness and are more fade resistant.  We use specially formulated inks for our outdoor printed products to resist fading and ensure an "eye catching" appearance.
If you need an outdoor mesh banner for your football game or fall festival or any event in the DC area, consider calling Heritage Printing & Graphics and see how we can make your next banner stand out in the crowd.
#OutdoorMeshBannersDC
Joe Gass
Heritage Printing & Graphics
2639 Connecticut Ave NW, Washington DC 20008 (202) 609-9761
2739 Interstate Street, Charlotte NC 28208 (704) 551-0700
22725 Washington Street, Leonardtown, MD 20650 (888) 777-9776