Sports Banners DC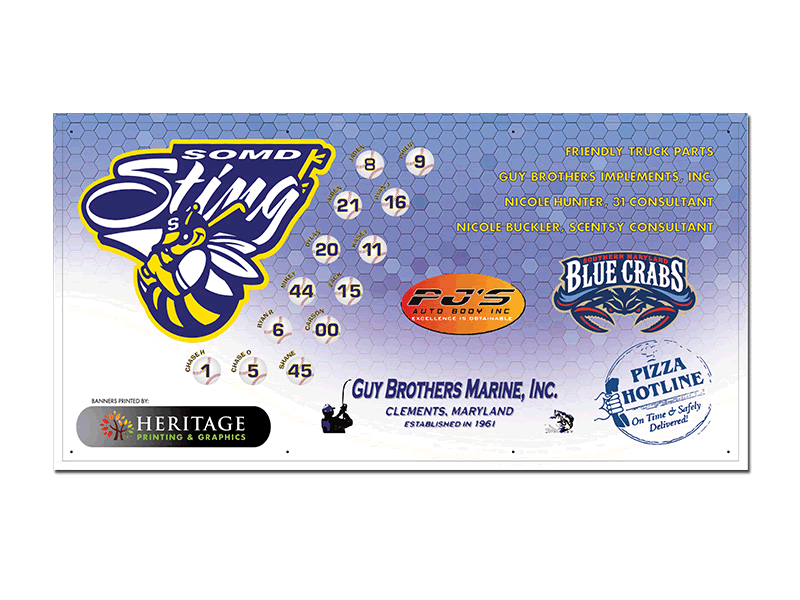 October is the season for baseball heroes!  Who's your favorite team in the 2014 baseball playoffs?  Obviously, we like the Washington Nationals, but regardless of which team you are rooting for this playoff season, the "Second Season" is upon us and DC is "Buzzing" with the excitement of post season baseball.
Joe Gass here again, talking about our Washington Nationals in the postseason and how we (Heritage Printing & Graphics) are involved with local and national sports teams.  1st let's acknowledge that I am a BIG sports fan and rejoice that my family is too.  My sons play competitive football and my daughters are active in athletics as well.
I have long felt that competitive sports are very good for:
Comradery
Health
Relationships
Discipline
We provide a lot of signage, printed marketing materials and banners for a variety of local and national sports teams.  Our capabilities to work with large and small organizations is very attractive to those seeking our services.
Sports banners are one of the popular items we provide for; sports clubs, schools, race teams & athletic groups.  They order custom sports banners and backdrops from us and enjoy the stress free Heritage Printing Process.
We provide a variety of options for vinyl and fabric banners to display indoors or outdoors for numerous sports:
Baseball
Basketball
Cheerleading
Football
Golf
Hockey
Lacrosse
Martial Arts
Racing
Skating
Soccer
Softball
Swimming
Tennis
Track & Field
Volleyball
Wrestling
With our high quality sports banners, your team can be the best represented team in the tournament and/or intimidate the visiting team and also excite the home crowd.  We also make Championship banners!
Our Carolina office have provided numerous sports related items to the NBA Charlotte Hornets and the NFL Carolina Panthers.  We would be proud to create and produce your sports banner, backdrops or any sport related items.
Always easy to reach and happy to help, call our DC sales office at 202-609-9761 for assistance with your sports banner or backdrop.
#SportsBannersDC
Joe Gass
Heritage Printing & Graphics
2639 Connecticut Ave NW, Washington DC 20008 (202) 609-9761
2739 Interstate Street, Charlotte NC 28208 (704) 551-0700
22725 Washington Street, Leonardtown, MD 20650 (888) 777-9776