Spread Your Business Messages Effectively With Window Graphics
Thursday, August 20, 2020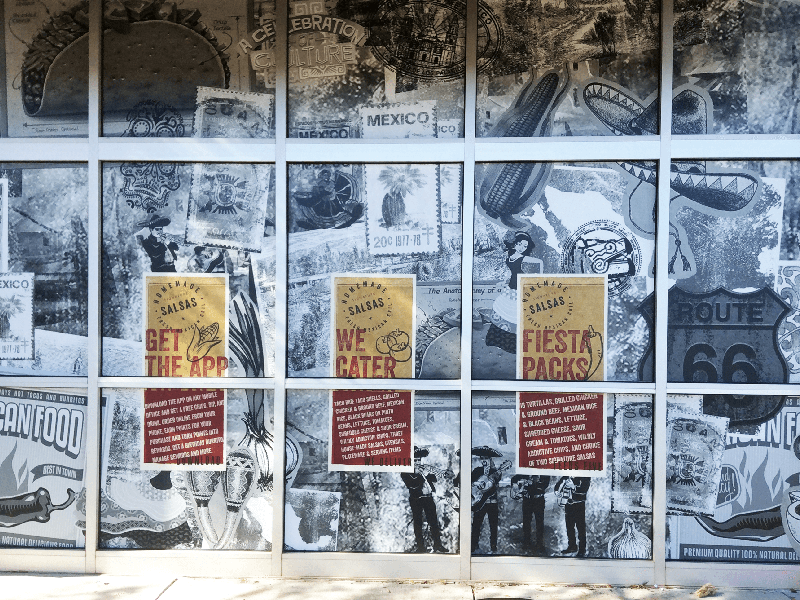 When you walk past a restaurant, what are the first thoughts that hit your mind? What makes you feel like going into it to have a wholesome eating experience? Undeniably, a solid Google review is a good start but secondly, it is the appearance of their storefront.
Colorful and attractive vinyl window graphics and branded signage are critically important to enhancing the experience of potential and existing patron. Vinyl window graphics must be appealing to our eyes and beckon the passers-by to visit the eatery. Alluring and delightful window graphics from Heritage Printing, Signs & Displays can inform customers about your products and services with compelling visual graphics and engaging colors. Our products will improve your business by directing people towards your services without a second thought.
What Do We Mean by Window Graphics?
Window graphics can be defined as clings, decals, murals, wraps or stickers designed from adhesive vinyl that is applied to storefront windows and other surfaces to highlight your business. These graphics can be custom printed as per your business requirements. They help to communicate your business message and on exterior or interior partitions or glass windows. In short, our window graphics can assist you in achieving your business goals through proper marketing via storefront window graphics produced and installed by Heritage Printing, Signs & Displays.
Permanent and Temporary Window Graphics
If you are conducting a one-time event as well as a short term promotion, temporary vinyl window graphics can do the trick. These removable vinyl graphics help you to effectively promote this event or special sale for your business. At Heritage Printing, Signs & Displays. we can produce and install window graphics to promote your business more effectively. You can consult with our trained project managers to discuss your needs, and our qualified team will produce an extraordinarily unique graphic that will impress you and your clients.
On the flip side, if you are planning to rebrand your existing office and business area or wish to promote a particular campaign, Heritage Printing, Signs & Displays can assist you in determining the accurate adhesive vinyl graphics perfect for your application. We have uniquely designed graphics to decorate glass, wood, sheet rock and other surfaces to convey your business message effectively and rapidly.
What Do You Need To Consider For Ordering Window Graphics?
When you are placing an order for window graphics, you need to consider certain factors to get the right output. At Heritage Printing, Signs & Displays, we focus on custom designing our graphics to fit the business requirements of our valuable clients. The more information you share about your business, the better services we can provide you in return. Here are certain factors that you should let us know if you want to get your window graphics designed by our creative team. Our surveyors will visit your business site to collect the following details for your convenience:
The number of windows you want to decorate.
Restrictions of the local zoning for application of exterior window graphics
Measurement of your windows
Whether you want to cover the entire windows or a part of them with the graphics
The message you want to convey through the graphics
Kind of graphics you want. Like, whether it should include a photo, image, logo or text.
If you have any particular color scheme all brand images in mind
The primary motive of your graphics
Features you prefer for your graphics – permanent placement or removable, longevity, etc.
At Heritage Printing, Signs & Displays, we can assure you will receive professional, high-quality, vinyl window graphics to meet your business need. Give us a call, we are here to help!
#WindowGraphics #WindowGraphicsCharlotteNC #WindowGraphicsWashingtonDC
Joe Gass
Heritage Printing, Signs & Displays
A Veteran Owned Company That Seeks To Honor God By Serving Others
2639 Connecticut Ave NW, Washington DC 20008 (202) 609-9761
2854 Old Washington Road, Waldorf, MD 20601 (301) 843-1995