Embassy Printing
Thursday, January 7, 2016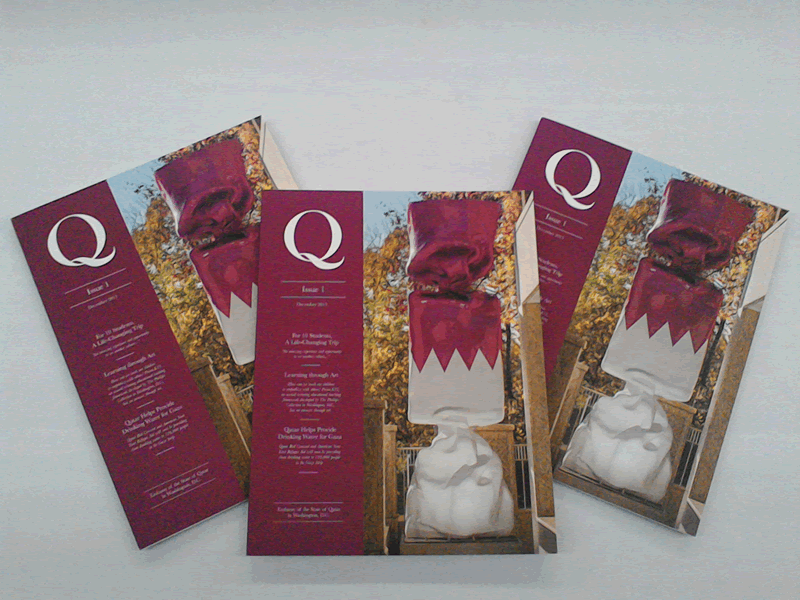 On my recent trip to our Maryland facility I learned a lot about Foreign Embassies. The personal tour down Embassy Row with Wayne Magoon, along with his defined description of the Embassies (we were in process of a custom booklet printing order for the Qatar Embassy) opened my eyes to the services we could provide an Embassy. There was one particular order in process (the proper print term is "Finishing") for the State of Qatar that captured my attention; a perfect bound book.
Before I go into the State of Qatar, I'll define the book
Perfect Bound: this is booklet binding process of "Binding" the pages of a booklet to its cover, this can be accomplished on several of our machines with variables being: Cover, Page Count and Number of Books. The content (pages) of the book are placed into a "Glue Pot" page holder, which is a machine that uses hot, melted glue chips to adhere the books pages to its cover. The spines edges are slightly "ground" to create a rough edge that will accept the glue, then the hot glue is applied and the pages are placed inside the cover and finally "clamped" securely together. Heritage Printing, Signs & Displays is one of many printing companies providing perfect binding.
When perfect bound was first explained to me I immediately thought of a time consuming process of gluing paper into a book, but when I witnessed the perfect binding, it was amazingly simple and fast. My friend Rashard was manually perfect binding a separate order and he could easily produce 50+ books an hour. Our automated booklet maker is much faster.
The Qatar Cover: it was the cover of the booklets that grasped my attention. To print such a high quality and detailed book cover was beyond my imagination, but my friends in Waldorf made it look easy. The cover has a satin look and feel, with a Hi-Res image of a Plexiglas candy statue made in the colors of Qatar's national flag. The cover is complimented with a single upper case "Q" printed with a sheen. The imagery and content was provided to us and is an immaculate example of the Qatar mission.
The State of Qatar
Qatar is a peninsular Arab country whose terrain is comprised of arid desert and a long Persian Gulf shoreline of beaches and dunes. Also on the coast is the capital, Doha, known for its futuristic skyscrapers and other ultramodern architecture inspired by ancient Islamic design. The Qatar Ambassador, Plenipotentiary (the diplomat with the full power of independent action on behalf of their government) is: His Excellency Mohammed Jaham A. A. Al Kuwari. info from Google
Embassy printing is more than just a business booklet, we also print and sometimes direct mail:
Printing for an Embassy is no different that our normal print orders, everyone needs help in some way or another. We are here to provide that Turn-Key Printing, from conception to completion: Design, Proof, Print, Finishing and Logistics!
We strategically relocated our printing facility in the summer of 2015, this was done so we can provide optimal logistics to our DC customers. We are partnered with many of the major logistic providers as well as offering direct delivery to DC via our Heritage Printing, Signs & Displays fleet of vans and box trucks.
#EmbassyPrinting