What the Experts are saying about Step and Repeat
Thursday, August 24, 2017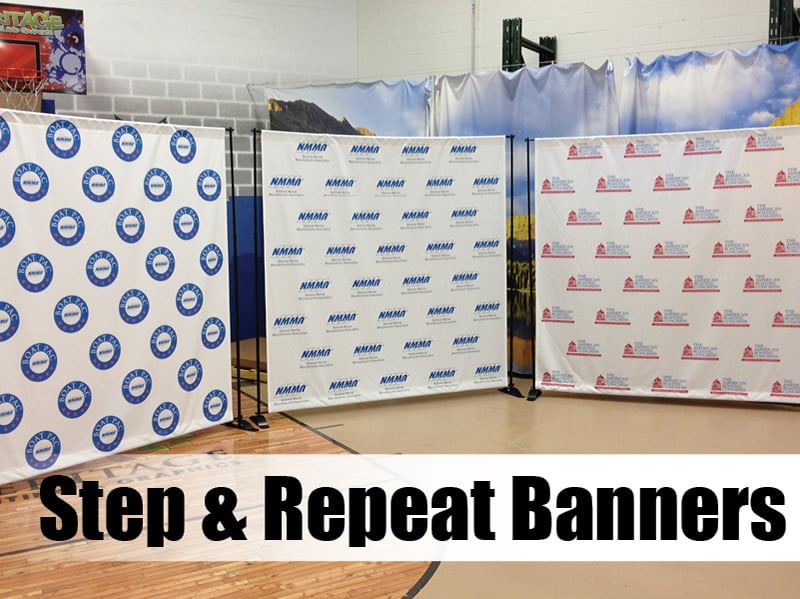 What is Step and Repeat?
A print pattern where images, typically company logos, are printed in a repeated pattern is referred to as Step and Repeat. Most will have 2 or more logos repeated to represent multiple brands simultaneously.
The most popular banners and backdrops are printed in a Step and Repeat pattern!

What kind of materials are step and repeats printed on?
Fabric makes the best step and repeat; it is durable, folds to an easily transported size and is lightweight. Our "Top of the Line" fabric is the Ultraflex UltraPoplin® Soft Image, it's 100% polyester with a matte finish, environmentally friendly and is 100% recyclable. The polyester yarn knit and special coatings make this an easily printable fabric that is wrinkle and crease resistant.
Vinyl is our most requested step and repeat, vinyl options include:
13oz vinyl scrim is the prototypical material we use, it is very durable and with our latex inks, provides a vibrant step and repeat that commands attention.
Mylar is the brand name for a special type of stretched polyester film that is adhered as a backing to the vinyl. Mylar provides a high tensile strength that makes our step and repeats extremely durable. We use Mylar reinforced vinyl on most of our retractable banner stands.
Mesh Vinyl provides an outdoor solution for a wind resistant step and repeat. Our PVC coated polyester scrim mesh banner material allows 30% airflow through, making it ideal for outdoor use. We can design a step and repeat with a transparent background to create a 3-Dimensional effect.
Fabric is Best, Vinyl costs Less

What are my hardware options to display my step and repeat?
Banners printed for hanging use grommets.
X Banner Stands use a fiberglass "tent-pole" style stand that attach to the grommets.
Retractable Banner Stands have the banner retracting into the stands base and stores/travels in its carrying case (included with every stand).
Banner Stands use the durable, extendable aluminum frames.
Hop Up Fabric Displays are the accordion style, aluminum backdrop hardware, often seen at larger venues.
Grommets, "Tent-Poles", Retractable,
Extendable and Accordion frames available

How can I use a step and repeat?
Event Booths: Step and repeat provide great photo and video opportunities.
Press Conference: The banner is an awesome display of the brand while the speaker delivers the message.
Photography: Eliminate an unwanted background activity, while providing the subject a stable stage.
Weddings: Commemorate the big day, great for family pictures.
Birthdays & Bar Mitzvahs: Create unforgettable memories.

Can you color-match our brand colors?
We guarantee to match provided company Pantone colors.