Cedar Point Federal Credit Union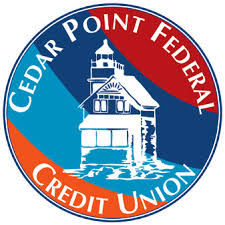 Cedar Point has long been a favorite customer of Heritage Printing, Signs & Displays; we have printed their communication materials for over 25 years. They knew us from our origin, before we were Heritage Printing, Signs & Displays, Cedar Point "came on board" when we were still Gass Printing.
If you have read our story, you know that Joe Gass and his brother Steve purchased Gass Printing from their parents, Allen and Margaret Gass in 1988. The brothers goal was to make strategic and calculated moves in growing the print shop into a much larger commercial entity that served Southern Maryland and the DC business community. Together, they rebranded the "Mom & Pop" print shop into Heritage Printing, Signs & Displays and soon made their first expansion move to a commercial location in Leonardtown, MD. Cedar Point remained loyal to the print shop during this transition and continue to work with us today.
Good customers are hard to find. Great customers like Cedar Point Federal Credit Union are much more than clients, they are business partners that you grow with.
In the late 70's and into the early 80's, when Gass Printing and Cedar Point Federal Credit Union were both small upstart businesses, Allen Gass and Barbara Horn (retired President and CEO at Cedar Point) formed a business relationship that was mutually beneficial for improving their businesses. Under Barbara's management, Cedar Point grew from 17,000 members with assets of $58 million in 1994, to their current 42,000 members with assets of $436 million.
During her many years with the credit union, Barbara implemented some of their member's favorite programs:
Moola Moola
Looney Tunes
YOUth Savings Club
A's = $$$
"A" chievement Award
Heritage Printing, Signs & Displays worked with Barbara, thru the late 80's, 90's and into the next decade, on many of the campaigns Barbara and her team created and that relationship flourishes still today.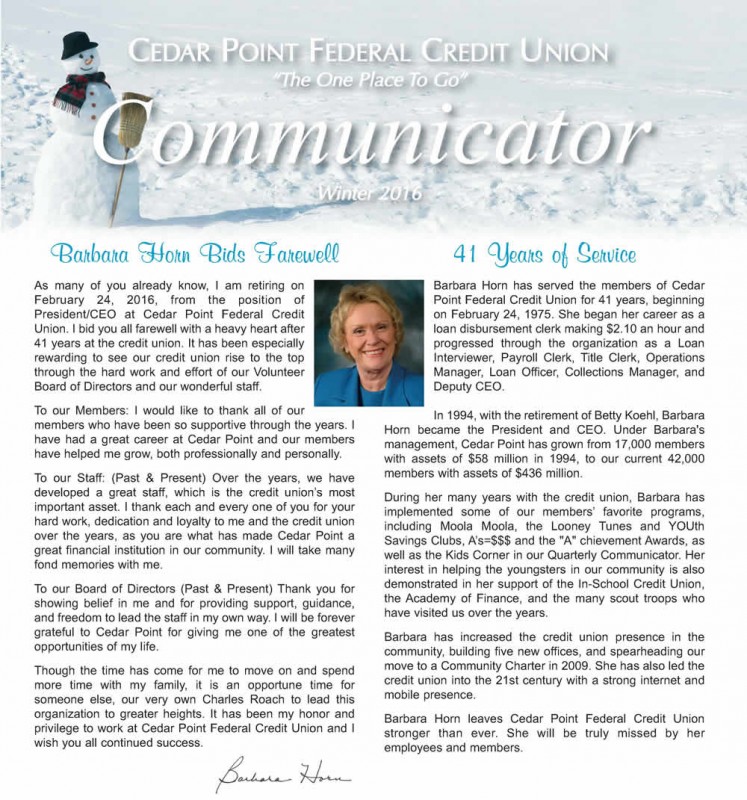 Currently we are pleased to work with another exceptional professional at the credit union; Lisa Shender, Marketing Director at Cedar Point. Lisa stays on point with all marketing materials for Cedar Point Federal Credit Union and has worked with Steve Gass and our Heritage Printing, Signs & Displays team (now located in Waldorf, MD) to produce an impressive line of communication materials:
Business Cards
NCR Forms
Tri-Fold Brochures
Calendars
Lisa is a true professional and absolute pleasure to work with, as well as becoming a major benefit to the local community and the Cedar Point Federal Credit Union team. Lisa represents all six Cedar Point locations with inspirational marketing campaigns focused on communicating the exceptional financial services they provide to the Southern Maryland communities and businesses.
"Heritage Printing, Signs & Displays has been doing the lion's share of our printing for more years than I even know." – Lisa Shender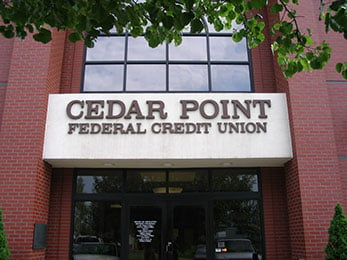 Here is a snippet from their website at: http://www.cpfcu.com/
Cedar Point Federal Credit Union (CPFCU) is organized to serve people who live, work, worship, go to school and do business in St. Mary's, Calvert and Charles counties in Southern Maryland. As a community based financial institution owned and operated by our members, our purpose is to provide financial advice and a competitively priced complete line of financial products and services, while at the same time maintaining/building an adequate capital base. CPFCU will continually play a leadership role in the communities it serves by providing high quality personal service in a friendly environment.
Our goal is to provide our members with a full service financial institution, offering the latest technology while still providing the personalized service we are known for. We strive to truly be "the One Place to go" for all your financial service's needs.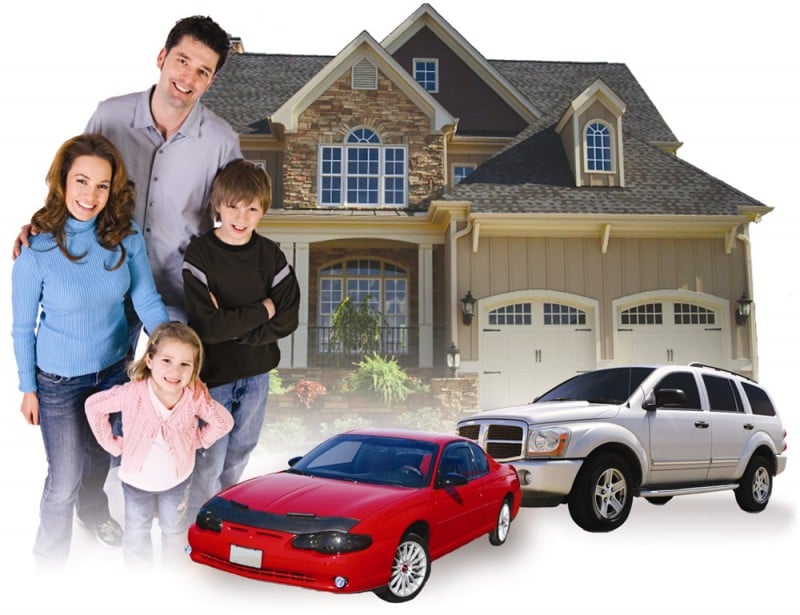 Cedar Point Federal Credit Union and Heritage Printing, Signs & Displays have witnessed an immense amount of growth since the 1970's. Cedar Point & Heritage Printing, Signs & Displays are a true testament that growth thru quality products and services, dedication to excellent customer service and an honest and upfront approach is the best methodology to conducting business.
We at Heritage Printing, Signs & Displays are proud to be partnered with Cedar Point Federal Credit Union, together we provide Southern Maryland with exemplary examples of professionalism in the business world and local community.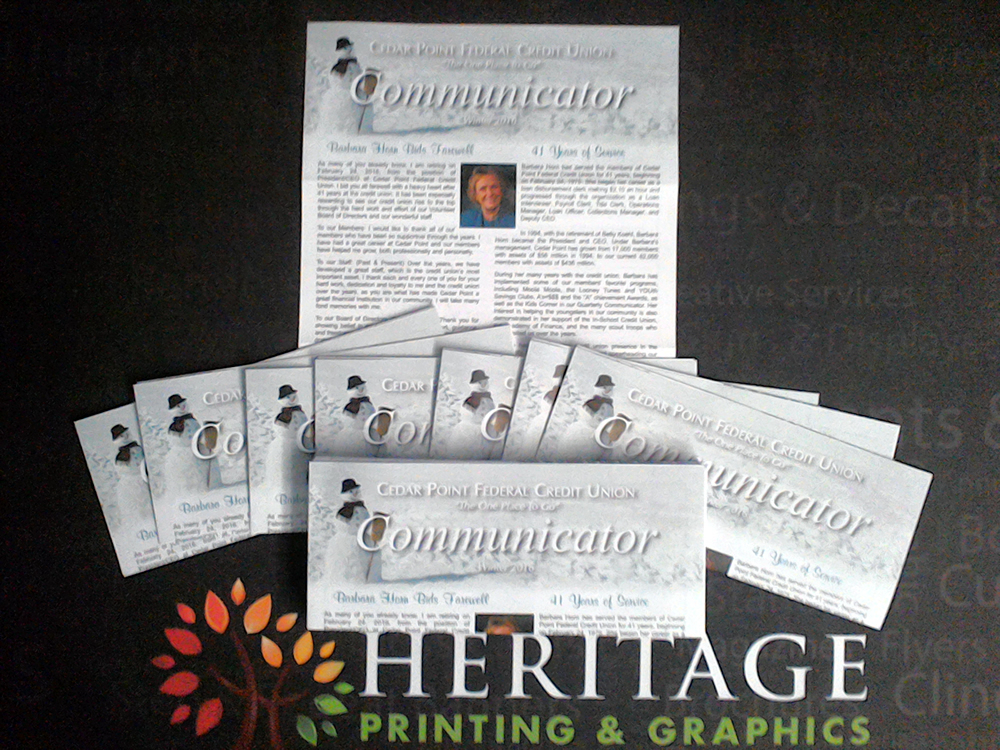 Joe Gass
Heritage Printing, Signs & Displays
A Veteran Owned Company That Seeks To Honor God By Serving Others
2639 Connecticut Ave NW, Washington DC 20008 (202) 609-9761
2854 Old Washington Road, Waldorf, MD 20601 (301) 843-1995