Conference Programs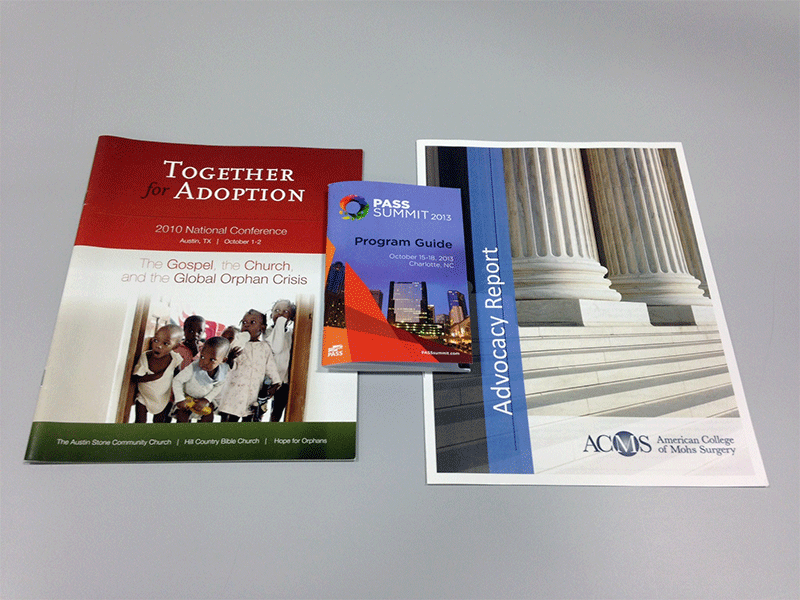 Washington, DC could easily be one of the top three conference locations in the nation, arguably first on the east coast.  With all those meetings held here in DC, where are all those conference programs and marketing materials coming from?
Hi, Joe Gass here again talking about conferences in DC and the printed marketing materials and programs used at these events.  To answer my own question, a lot of those materials are printed here at Heritage!
I have attended numerous trade shows, conventions and conferences during my career, I'm always amazed at how each event host promotes the event and how the guests/vendors are represented.  Some think that "showing up and putting out flyers" is all there is to an event of this magnitude.  My interpretation is simply: "Conventions and trade shows allow a vendor to vividly and confidently display their products and services in a positive manner."
Quality conference materials keep the attention on your company products and services and gets your message across.  We produce top quality printed conference materials and programs here at our local facility, that makes delivery fast and on time.
We print your programs, flyers, brochures and catalogs and everything you need for your event using your brand and logo.  Our color matching guarantees your corporate company colors will never be compromised, and if you need help designing something original, our graphic art staff is here to help.
Our affordable conference materials coupled with quick production and delivery schedules will keep you stress free at your next conference!
Conference Programs
Directories
Handouts
Notebooks
Journals
Click here to visit our conference materials web page for more examples.
#ConferenceProgramsDC
Joe Gass
Heritage Printing & Graphics
2639 Connecticut Ave NW, Washington DC 20008 (202) 609-9761
2739 Interstate Street, Charlotte NC 28208 (704) 551-0700
22725 Washington Street, Leonardtown, MD 20650 (888) 777-9776