How to Install a Step and Repeat Banner Stand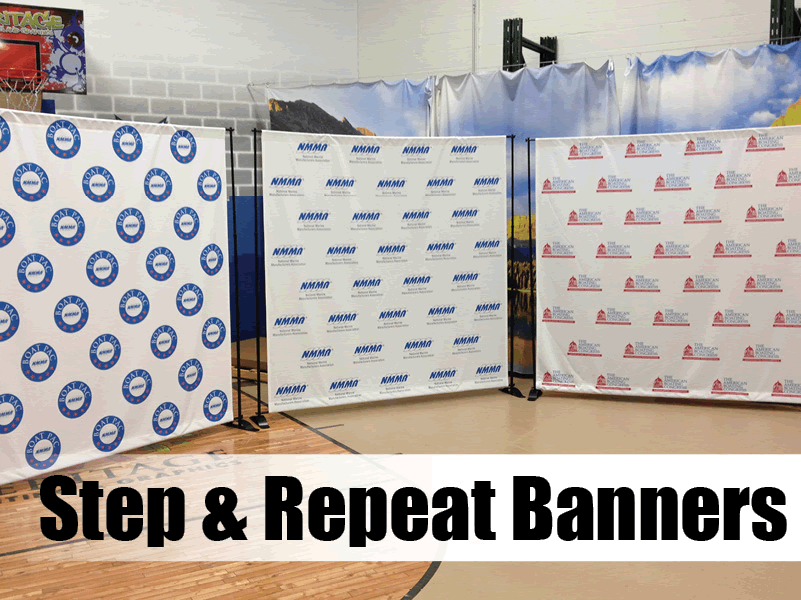 Step and repeat banner stands are a big product for us. We make them in a variety of sizes, on a multitude of substrates and a plethora of hardware used to display the banner. With so many sales for a single product line, you know we are going to get lots of "How Do I…" calls. Today we will dive into the step and repeat display world and explain what they are and how to use them, but first, let's address the How Do I Install question:
HOW DO I INSTALL A STEP AND REPEAT BANNER STAND?
Here is a list of the hardware provided and step by step instructions on how to erect a step and repeat banner stand, simply reverse the steps to disassemble the banner and store in the carry case. View how to assemble step and repeat banner stands  or click here for the printable version of these instructions.
Hardware Included:
2 Feet
2 Side Poles (telescopic)
2 Support Poles (top & bottom, telescopic)
6 Pole Attachment Screws (stored in the end of the poles)
Middle Support Pole *included w/ XL Stands only
Custom Printed Banner
Carrying Case
Installation:
Remove the screw from the bottom side pole and insert the side pole into a foot and reinsert the screw to the pole through the bottom of the foot. Snug with a Philips screwdriver, creating the base. (screwdriver not included)
Repeat with the other side pole.
Screw the support poles together, hand tighten only. Loosen both pole extensions, extend completely and retighten.
Installation requires 2 people.
Spread the banner out on floor.
Slide a support pole thru the pole pocket at the bottom of the banner.
Slide the second support pole into top pole pocket and attach ends to the top of the side poles with the supplied screws. (stored in the end of the poles)
Extend both side poles until the banners bottom is slightly off the floor.
Attach the bottom pole ends to the side poles with the supplied screws. (stored in the end of the poles)
Extend both side poles simultaneously to erect the banner.
*Connect the middle support pole and insert into the slits at the top and bottom of the banner and extend until tight.
Disassembly:
Reverse the installations steps from #11 to #1 and store the hardware in its carry case
Now, let's address some of the questions we get over the phone, chat and email.
WHAT IS A STEP AND REPEAT?
Everyone has seen them (unless you live under a rock without TV or Internet) you just don't know what the real name of them are. When professional sports athletes give media interviews, the banner behind them, with all those logos, is called a step and repeat.
Images (usually the team logo and their best sponsor) are printed in an offset pattern, like an Excel spreadsheet, every other image is the same logo repeated. Hence the name Step and Repeat.
Step and repeats are normally 2 logos, we have made many step and repeat banners with 4 and 5 different company logos on it. They make such a good background for pictures and videos, marketers can use them to promote 2, 3 or even 4 companies/sponsors simultaneously.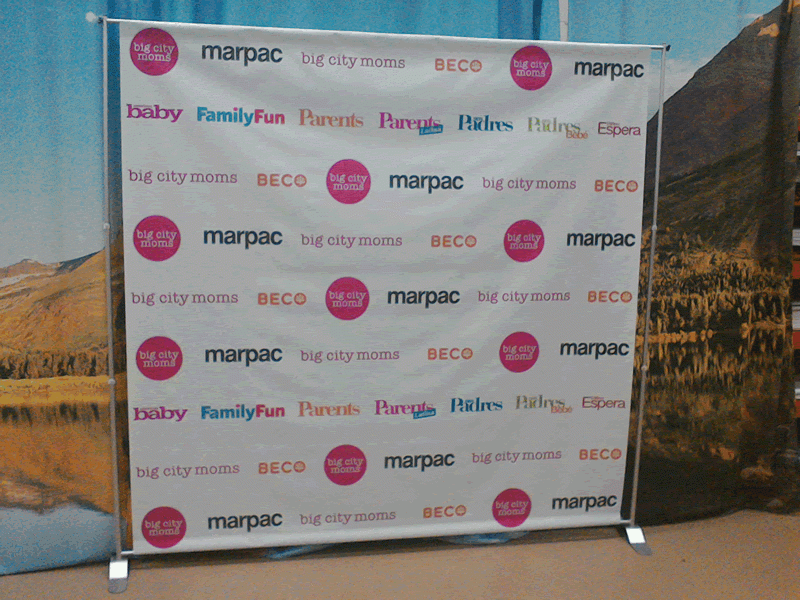 WHAT TYPES OF STEP AND REPEATS CAN I HAVE?
We produce 3 "types" of step and repeats in a banner format, but our large format printer can print on most rigid substrates from 10' wide by 15' long, but let's stay with our most popular product, the easily portable banners.
Banner: This is almost always a vinyl banner with grommets that is "hung" with nails, bungee cords or simply tied off. Vinyl banners have the huge advantage of not requiring hardware to display the banner, thus cutting the cost dramatically. This is not our prototypical step and repeat order, but we do make some periodically. We make vinyl banners in an unlimited array of sizes, too many to list and we have discounts available for large orders.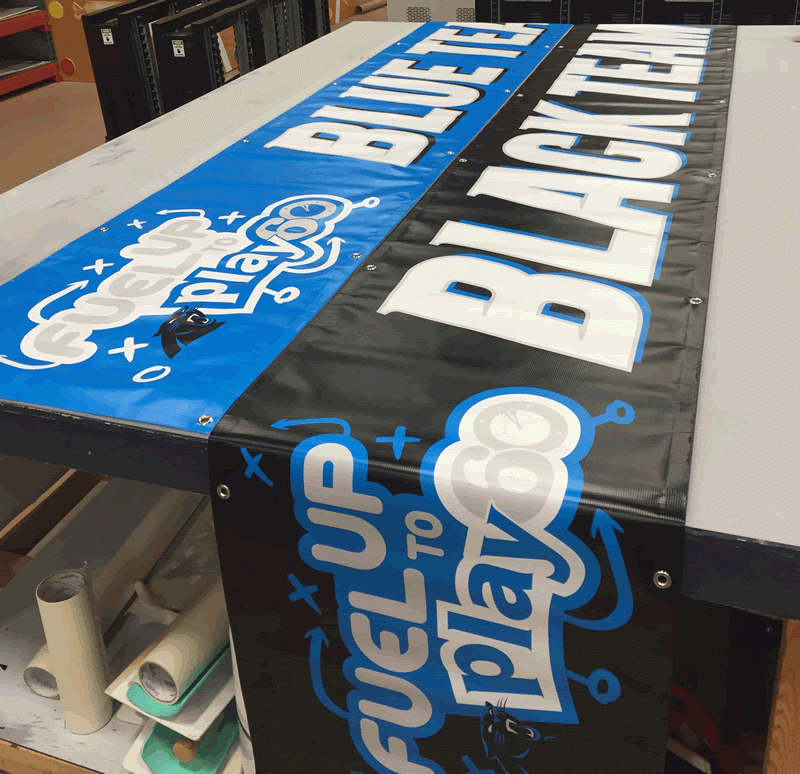 Retractable Banner: This is our most popular banner display, but typically not ordered in the step and repeat pattern. This has a Mylar backed vinyl banner that retracts into the base, much like a window blind. Retractable banners are easy to assemble and disassemble, along with east traveling with the included carry case.
The widths start at 31 ½" and extend to 59" (which is wide enough for a 2 people photo) and heights start at 78" tall and will reach up to 120". We also offer these in a 2-Sided banner, (2 banners retract into a single base).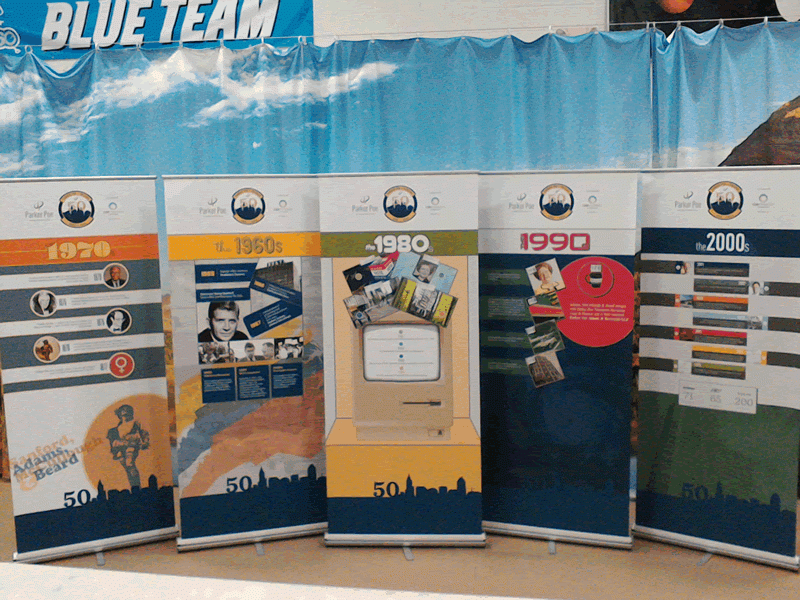 Banner Stands: Our most popular step and repeat backdrop. We make these in both vinyl and fabric, creating a pole pocket in the top and bottom of the banner so a telescopic support pole can be inserted thru the pole pocket, then attached to the telescopic side poles that easily erect the banner to its display height. Our standard sizes are: 8' x 8', 8' x 10', and 8' x 12'.
As you can tell, we know our step and repeat banners and always welcome inquiries about them and the other event signage we manufacture. Our business model is based on Turn-Key service and that includes support after the sale.
#Step&Repeat
Joe Gass
Heritage Printing, Signs & Displays
A Veteran Owned Company That Seeks To Honor God By Serving Others
2639 Connecticut Ave NW, Washington DC 20008 (202) 609-9761
2854 Old Washington Road, Waldorf, MD 20601 (301) 843-1995