Mt. Olive Missionary Baptist Church Centennial Celebration Commemorative Edition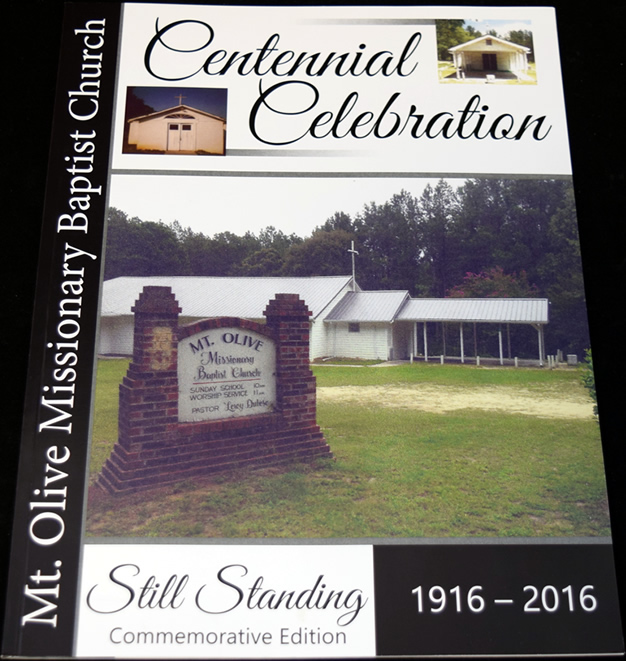 Heritage Printing, Signs & Displays had the honor of being selected as the publication printer for the Mt. Olive Missionary Baptist Church Centennial Celebration Commemorative Edition. It was a privilege we relished as this unique project entailed much more than the typical; proof, pre-press, print, finish and deliver. We were directly involved with many aspects of the perfect bound book.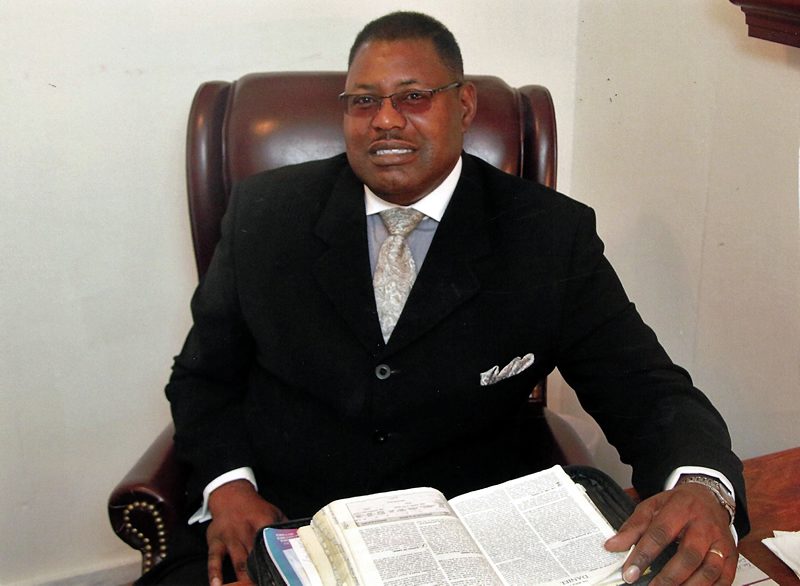 THE BEGINNING
It started when Reverend Leroy DuBose and Mrs. Willa Ratliff shared a conversation regarding their upcoming annual celebration. The topic quickly turned to "above and beyond the normal" because it was to be their centennial celebration, 100 years of worship at one location is definitely something to celebrate. Willa's experience in print and her unique abilities to engage the members of the congregation, made her the perfect choice to lead this year's event publication project.
THE CABINET
As a firm believer in "empower and support", Rev. DuBose and chairperson Darlene Myers quickly assembled the cabinet members, assigned duties accordingly and began the quest to present the Mt. Olive congregation with the best commemorative edition possible, one to be remembered, shared and cherished for years. Rev. DuBose and Willa agreed that the book would be the remembrance piece of the event, it had to be extraordinary.
DATA
On her journey to acquire the necessary information to populate the pages, she realized the challenges of the task at hand, most of the data she found was not digitized, much of it existed only in memories. Weeks of friendly visits, interviews, and numerous cups of coffee established a collection of notes, stories and pictures for the publication, all that was left was to assemble the records.
Heritage Printing, Signs & Displays
A Google search for "Charlotte Printers" led Mrs. Ratliff to numerous options for printers, but none impressed her as much as Heritage Printing, Signs & Displays (that's her words). The courteous conversation and friendly demeanor of Chris Ladika, Project Coordinator at Heritage Printing, Signs & Displays, made Heritage Printing, Signs & Displaysthe definitive choice.
ASSEMBLE THE BOOK
Willa was worried over assembling the book contents, Chris and James quickly relieved all worries regarding converting her files into a digital layout. James Zambrano, Project Coordinator at Heritage Printing, Signs & Displays, has an extensive background in print, he was able to digitize the pictures and "Photoshop" them to an amazingly high quality. Tish Clem-
McClanahan, Graphic Designer at Heritage Printing, Signs & Displays, collected all the digital files from James and Chris, created the layout of the cover and page content, set everything to "proof" and sent it to Willa and her team for review. With a few quick edits, the perfect bound book was "Print Ready" and was sent to pre-press, print, finish and delivery!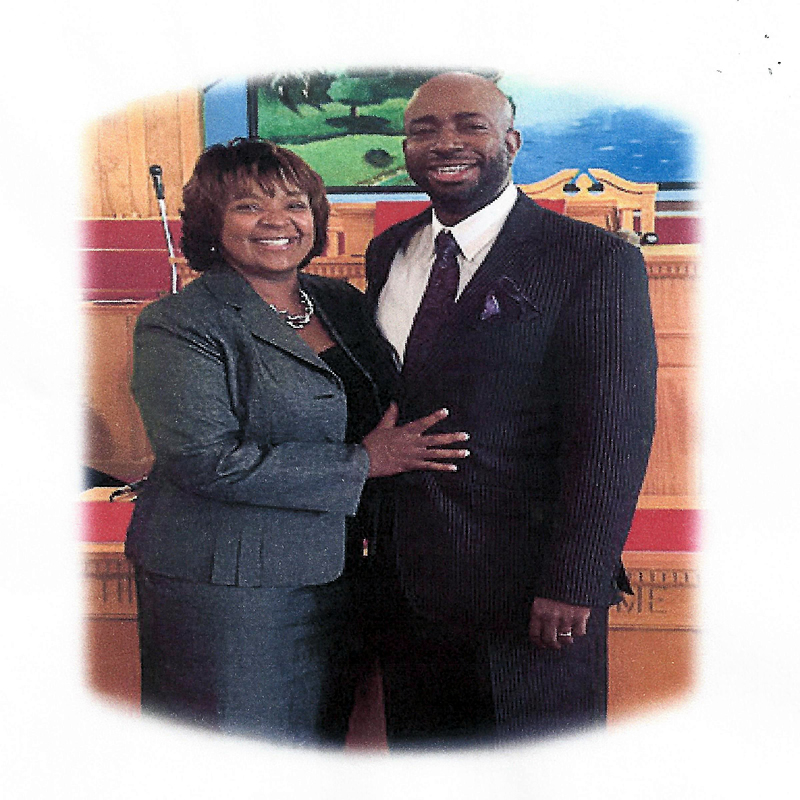 THE CENTENNIAL CELEBRATION
The church members gathered Friday, May, 20th at Mt. Olive Missionary Baptist Church to begin the weekend event themed "STILL STANDING". The evening service included a joyful rendition of "Leaning on the Everlasting Arms", a presentation by the Mt. Olive Praise Team and a message from guest speaker, Reverend Joseph McFarlan, Pastor at Macedonia Baptist Church in Cheraw, SC.
Arrowhead Park in Cheraw, SC hosted Saturdays celebration, with an eclectic banquet on an elaborate display for everyone to feast upon. Activities for all ages included:
Baseball
Games
Rides
Playground
Walking Trails (with remarkable Magnolia trees)
Of all the scrumptious delights and activities, it was THE LORD, that took center stage.
Fellowship was abundant!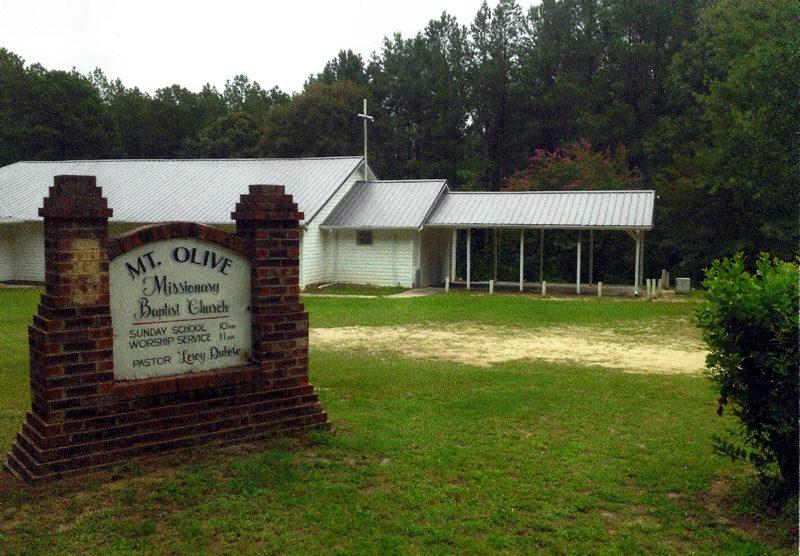 Sunday morning church service was held with guest speaker Reverend Bennie Gaddy from New Beginning Baptist Church in Ruby, SC. Worshiping the Lord through:
PRAISE
STEWARDSHIP
THE WORD OF GOD
DEDICATION
The celebration concluded with Responsive Reading from The Church:
Matthew 16:13-19, Colossians 1:18, 24
WHAT'S NEXT
Mt. Olive Missionary Baptist Church is steeped in tradition, and Revival is the soul of salvation. Revival is a tradition often shared, numerous church revivals are scheduled collaboratively to enable members from church locations across North and South Carolina to attend.
Revival season is here and You're Invited!
QUOTES
Notable remarks I encountered while researching this article.
Willa Ratliff: "You Get What You Pay For!"
Chris Ladika: "Willa is the most delightful lady I've worked with since joining Heritage Printing, Signs & Displays."
James Zambrano: "Man that was a lot of pictures to scan and enhance." J
IN CLOSING
Mrs. Ratliff insisted on driving over 45 minutes to meet me and interview for this article. I'm so very grateful she did. She immediately had me off my "professional game" and relaxed into a true "Southern conversation" (we are both proud Carolinian's). We shared laughter and even tears reminiscing on heartfelt memories of family, church and life in general.
Quality products, coupled with exceptional customer service has me convinced I will see my new friend again in the near future.
Joe Gass
Heritage Printing, Signs & Displays
A Veteran Owned Company That Seeks To Honor God By Serving Others
2639 Connecticut Ave NW, Washington DC 20008 (202) 609-9761
2739 Interstate Street, Charlotte NC 28208 (704) 551-0700
2854 Old Washington Road, Waldorf, MD 20601 (301) 843-1995