Standoff Mounted Sign Installation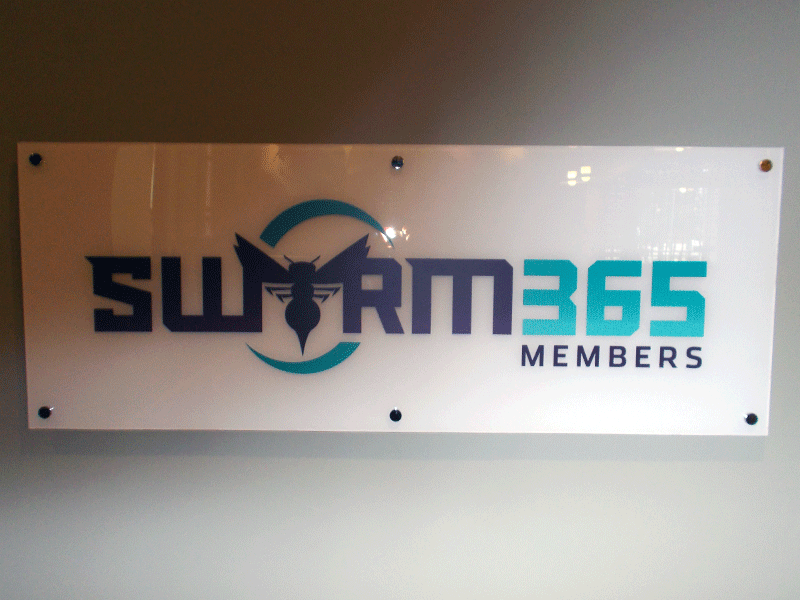 Heritage Printing, Signs & Displays Production facility Lead Fabricator Brent Thompson is demonstrating how to install a standoff mounted sign using metal stand-offs to a finished sheetrock wall.  This type of signage looks great in lobby and entrance areas.
Brent begins with a cardboard template he made the same size of his sign, it has pilot holes in it for accurate alignment.
Use masking tape and tape the template to the wall then use a level or tape measure to ensure the sign will be straight.
Mark the wall thru the pre-drilled holes and remove the template.
Drill a small pilot hole in the sheetrock, then insert a heavy duty wall mount into the wall, this will hold the standoff mount securely to the wall.
Insert a screw into one of the metal standoffs and fasten it to the heavy duty wall mount.  Repeat to the remaining wall mounts.
Clean the back of the sign, once secured to the wall it can't be reached unless it is removed.
Insert a top mount to your sign and screw it into the metal standoff.  Repeat with the remaining standoffs.
This video demonstrates a very easy method to fasten a standoff mounted sign to a finished sheetrock wall.  We manufacture a variety of office signage in our Charlotte production facility.  Click on these links to learn more about standoff mounted signs and other services we provide.
Thank you for visiting our website and watching our video.  Consider signing up for our Newsletter for more interesting activities from Heritage Printing, Signs & Displays.  Click here to sign up.
#OfficeSigns