Vinyl or Fabric: What's Best for Your Banner?
Wednesday, March 22, 2023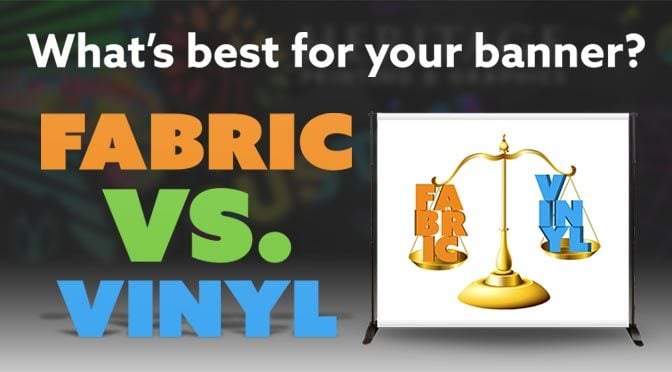 When your company wishes to order a new banner or event backdrop, you have numerous factors that need to be considered to ensure that your banner achieves your company goals, is affordable as well as reusable, and brands your organization effectively. Some of these factors include:
Size
Design
Materials
Cost
Appearance
Durability
Ease of Transport
Maintenance
Additional options like stands or other elements.
Whatever your goals for your new banner are, the most important thing to consider is whether you want your banner made from vinyl or fabric. Both vinyl and fabric are reliable and durable materials for banners, but they each come with their own unique features that may or may not be right for the effect you intend to achieve with your new banner. Depending on what your intention is for your banner, either vinyl or fabric can be customized to meet your signage needs, whether on a temporary, seasonal, or even permanent basis.
Comparing Vinyl and Fabric
Vinyl and fabric are both useful materials out of which the team at Heritage Printing, Signs & Displays makes banners and backdrops intended to make a lasting impact on potential customers. Both are extremely versatile for a myriad of events, but they each have their own special uses that make them distinct from each other.
Specialized Uses for Vinyl
Vinyl is a useful material for signs and banners because it represents your company's imagery in a way that's resistant to the elements and useable over time. Vinyl is typically used in the creation of event banners, outdoor mesh banners, and sports banners. Vinyl banners are a popular and versatile signage option for both indoor and outdoor events because they are easy to print, bind, and assemble. Whether vinyl banners are suspended from walls or ceilings or are freestanding with the aid of a retractable banner stand, vinyl is easy to clean and applicable for a multitude of installation locations.
Specialized Uses for Fabric
Fabric is a premiere option for event signage printing because of its organic quality, the ease with which it folds for safe transporting, and the natural visual appeal fabric presents. The fabrics used by the team at Heritage Printing, Signs & Displays range from durable canvas to fabrics that are soft to the touch. Fabric printed banners can be used as part of trade show displays and other signage both temporary and permanent. Fabric is also used in the production of custom printed curtains, table runners, and feather flags, among other forms of signage.
Creating Custom Event Banners
Common Uses for Vinyl and Fabric
Both vinyl and fabric are used as event backdrops and custom event displays that are intended to be visually captivating and useful at a myriad of indoor and outdoor events. Fabric is used in the production of fabric backdrops, portable fabric displays, and red carpet backdrops, among others.
Vinyl and fabric are also used in conjunction with banner stands to make sure that event signage is secured and resistant to wind and being knocked over easily. Some of the most commonly utilized banner stands like X banner stands can be made of fabric or vinyl as needed.
Assembling a Pipe and Drape Backdrop
Differences Between Vinyl and Fabric
Durability
Durability is an important factor when Vinyl banners are more durable than fabric banners if your banner is intended for outdoor usage. But fabric banners are a better choice if they are to be used repeatedly for short-term indoor events.
Transportation
Vinyl and fabric backdrops present unique challenges when it comes to transportation. Fabric backdrops tend to be better suited to long distance travel because they can be collapsed on the frame and tend to be more space-saving than vinyl. But fabric backdrops also need to have separate stands that can be more time-consuming to assemble and disassemble, depending on the size of the banner stands and other components.
Vinyl backdrops are often easier to assemble and disassemble because they can be rolled and affixed in place with the use of vinyl banner stands. But vinyl backdrops are in danger of creasing or cracking over time if improperly disassembled and stored. Vinyl backdrops also have size limitations when it comes to shipping. For example, if a retractable vinyl backdrop is 8 ft. x 6 ft., the shipping container will be a 6 ft. long box.
Assembling a Step and Repeat Banner
Maintenance
All banners, whether vinyl or fabric, need to be maintained if they are to achieve maximal effectiveness. Vinyl banners are easy to roll into a core, while fabric banners can be folded. But a notable advantage for vinyl is that it can be easily cleaned with a wet cloth if it were to be exposed to dirt or liquid. Fabric is more susceptible to staining and would need to be dry cleaned if it were to get dirty. But with the proper care and storage indoors, both vinyl and fabric banners should be able to withstand long-term usage and repeat usage, if desired.
Ink
Both fabric and vinyl banners require ink directly printed onto the material to represent your company's imagery and messaging in a visually captivating way. Heritage Printing, Signs & Displays has perfected the process of direct printing onto both vinyl and fabric, both of which require specialized techniques and inks to prevent bleeding and to accurately represent your company colors. The techniques our custom sign professionals have perfected ensure that the ink used in your fabric or vinyl banners is printed onto your banner to maximize longevity and visual appeal in a variety of conditions.
How to Tape Hem and Grommet a Custom Vinyl Banner
Finishing
The finishing process for vinyl banners and fabric banners differs as well. All banners can have grommets, pole pockets, Velcro, or be straight trimmed. But fabric banners require a special trimming method called a hot knife. The edges need to be sewn to maintain the integrity of the banner and make the quality last as long as possible. By contrast, vinyl banners are finished using heat welding and adhesive tape welding methods.
How Easy It Is to Set Up a Retractable Banner
Appearance
The differences in appearance between vinyl banners and fabric banners are obvious given that they're not made of the same materials, but the appeal is subjective. Fabric tends to have a better appearance in photographs because of its inherent surface texture and lack of light glare, making usually make it a better material for a step and repeat banner. But vinyl is a denser material than fabric and doesn't have the translucent effect of fabric, which will prevent light from excess from shining through and will allow your imagery to be displayed much better in outdoor conditions or environments such as sporting events.
Which Is Better for My Banner, Vinyl or Fabric?
Both vinyl and fabric are highly useful materials for banners, but their advantages, disadvantages, and best uses are different. Depending on your company's signage needs, fabric or vinyl may be best suited for what you have in mind. The similarities and differences between vinyl and fabric are listed below.
Advantages of Fabric Banners
Organic look and feel
Foldable, making it easier for storage and travel
Well-suited for indoor events and photography
Prioritizes appearance over budget
Advantages of Vinyl Banners
Rollable, easy to hang or assemble
Easy to clean and more resistant to liquids and dirt
Well-suited for outdoor events
Prioritizes budget over appearance
Disadvantages of Fabric Banners
Harder to clean than vinyl.
Not as easy to assemble and disassemble as vinyl.
Disadvantages of Vinyl Banners
At risk of creasing or cracking if improperly stored.
Not as space-saving as fabric for storage and traveling.
Best Uses for Fabric Banners
Indoor events involving photography
Multiple locations involving travel
Locations with reduced risk of encountering dirt and liquids
Best Uses for Vinyl Banners
Outdoor events
Long-term outdoor usage
Short-term events
Single locations not involving extensive travel
Heritage Printing, Signs & Displays Creates Vinyl Banners and Fabric Banners Built to Leave a Lasting Impact
Heritage Printing, Signs & Displays is a leading printer and installer of vinyl banners and fabric banners in the Washington, DC area, including Northern Virginia communities such as Alexandria, Fairfax, and Arlington, as well as Southern Maryland communities like Bethesda, Silver Springs, Chevy Chase, and more. We have won hundreds of industry awards for the original signs and banners we have produced and have earned hundreds of 5-star reviews from our satisfied clients.
If you wish to create new vinyl banners or fabric banners with us, contact Heritage Printing, Signs & Displays today at (202) 609-9761 or Get a Quote for free using our convenient online form. We look forward to hearing from you!
#vinyl, #eventbanners, #outdoormeshbanners, #sportsbanners, #retractablebannerstand, #fabricprinted, #tradeshowdisplays, #customprintedcurtains, #tablerunners, #featherflags
Joe Gass
Heritage Printing, Signs & Displays
A Veteran Owned Company That Seeks To Honor God By Serving Others
2639 Connecticut Ave NW, Washington DC 20008 (202) 609-9761
2854 Old Washington Road, Waldorf, MD 20601 (301) 843-1995