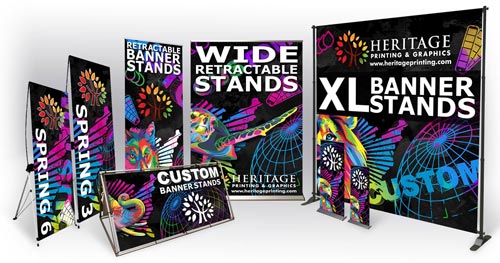 Banner Stands and Vertical Banner Stands
Banner stands are a great way to display your graphics and messages that is affordable, easy to set up and incredibly mobile. Heritage printing has many options for displaying your banner or backdrop. Whatever your need may be, regardless of budget, time or size, we have a quality banner stand you can rely on and be excited to show off.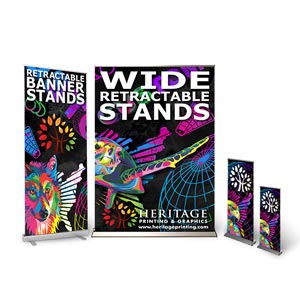 Retractable banner stands are the simplest stands to set up and come in a variety of styles and sizes that allow for greater control over your projects budget while getting a quality visual solution. Retractable banner stands come in a compact carrying case and can be quickly deployed in just a minute or two. We print our retractable banners on a 10 mil hybrid PVC and PET grey backed blockout film that provides maximum durability and anti-curl technology to ensure your banner comes out nice and flat every time you get to display it. The grey back blockout film also blocks light from entering the back and washing out your graphics so you can be confident in your banner stand in any lighting conditions. The face of the banner film is a textured satin finish to provide optimum visibility by reducing glare from overhead lighting and flash photography. Our Retractable banner stands, aka: roll up or Pop Up banners, have a spring mechanism that automatically retracts the graphic, much like a window blind. For most situations a retractable banner stand will provide you with the most affordable and portable marketing tool. Retractable banners are perfect for presentations, meetings, trade shows, conventions and point of purchase. The base is constructed with heavy-duty aluminum and molded plates and could last for years with proper care.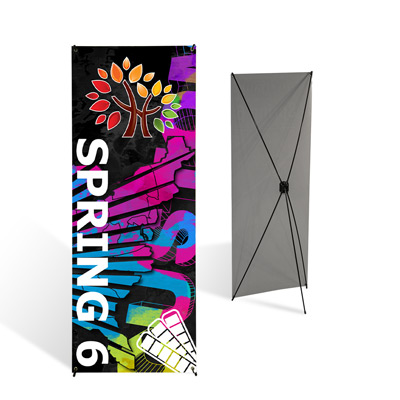 X-Frame style stands are typically the most affordable banner stand option. They come with a carrying case and are extremely mobile. They are lightweight and easy to set-up. The X Frame Stand is made from ultra-durable plastic and carbon fiber to provide strength and a long life of tension while remaining light weight. We print our X-Frame banners on the same 10mil anti-curl greyback banner film we use for our retractable banners with the option to use 13oz vinyl banner material for an even more affordable option which has all of the features of the 10mil grey back film except the anti curl technology and the light blockout film.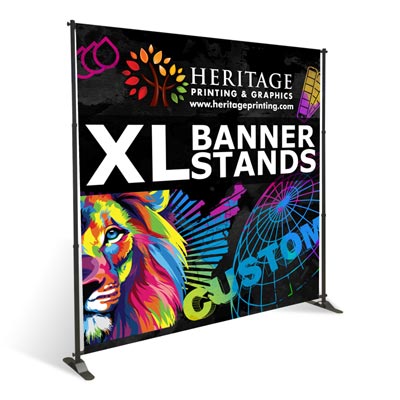 Large Banner Stands are what it sounds like, Large. Large banner stands can support a banner size up to 12' wide and 10' tall. Remarkably this capable banner stand can be disassembled and sorted into a compact carrying case that is smaller and lighter than a typical badminton set. This is achieved by using heavy duty materials and American manufacturing to build quality bases and telescopic poles which allow this stand to be adjusted and sized down to also fit a banner size of 4' by 4'. Large stands can be set up by one person, but it is much easier to do it with the help of a friend. Large stands can be used for vinyl or fabric banners, as well as photography and Step-and-Repeat backdrops.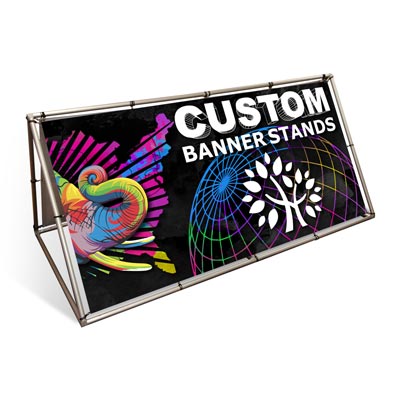 If none of these solutions cater to your needs Heritage Printing has been building custom solutions for different needs for years. We have custom fabrication engineers that can dream up anything you need and professional custom fabricators than can build you the right quality solution to solve any visual communication problem you may have.
Heritage Printing is your premier provider of quality banner stands and we hold great pride in fulfilling visual communication needs with exceeding courtesy and professionalism. We have in-house designers and project coordinators that are qualified and experienced in providing quick, quality service in even the tightest of deadlines. If you need a quality banner stand, give Heritage Printing a call or get started on a quote here to get us working on your new banner stand project.
Expedited services available with next day delivery in most cases. Files must be approved for print prior to 10am.
---
We Welcome Your Rush Orders!
202-609-9761
2854 Old Washington RD. Waldorf, MD
(just outside the capital belt)
(Google map)
Customer Review via Google+
I left a message overnight by email. I live in Tel Aviv and when I awoke, there was a reply. Despite the 7-hour time difference, James Zambrano jumped right on it and, within 6 hours of my placing the order a very large (8' x 10') sign and support stands were delivered to our location. Amazingly easy and no mistakes, nothing had to be done over-- perfect on the first try. James was friendly, understood the urgency and made it all happen. I recommend Heritage and James Zambrano to anyone and everyone. Bob Wheelock
Read More Reviews...