There is a better way! Paste Bound Booklets
Thursday, September 1, 2016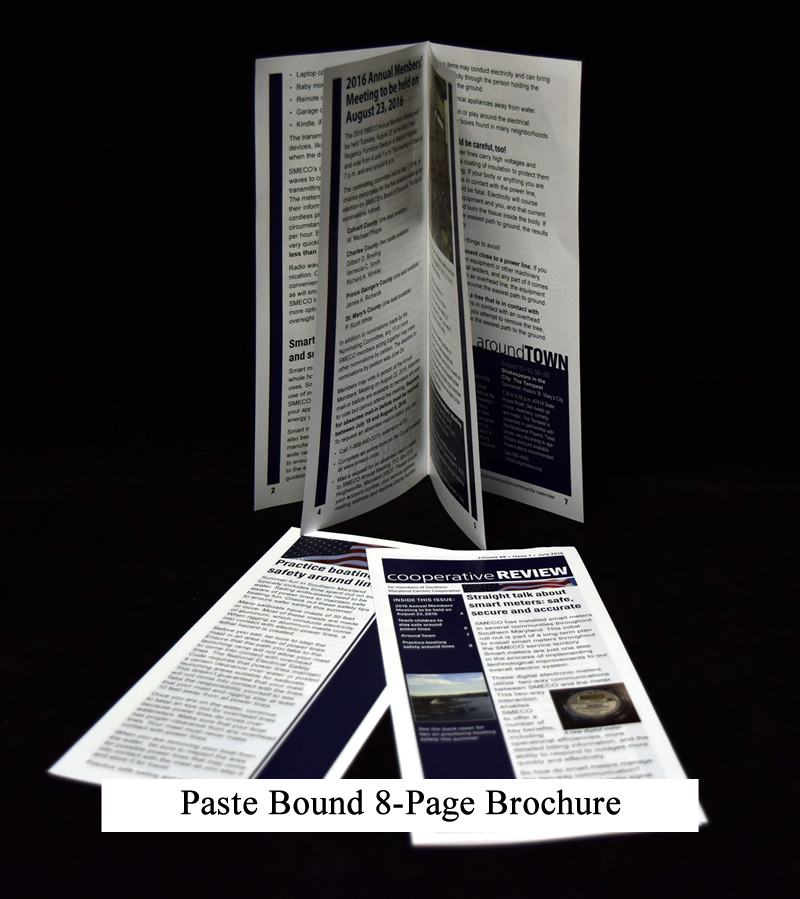 Innovation comes from imagination; thinking outside the box, seeing past the trees, there must be hundreds of "sayings" for people that look beyond their capabilities and seek a better way to do things.
"Comfortable is not profitable."
That (I think) is my original "saying" and I firmly believe it, if you want more, then get out of your comfort zone and go get it. Developing more profitable methods, creating safer work environments, and increasing value for yourself, your products or services, takes time and determination. That is exactly how we think and work here at Heritage Printing, Signs & Displays, finding a newer or better way is an integral part of the Heritage Printing, Signs & Displays Process.
Recently we concluded tests in an alternative method for booklet printing and more specifically binding booklets. Traditionally, our booklets were printed, folded, stitched (stapled at the spine) and trimmed to size, which required considerable labor. Paste Bound is the term used for binding an eight-page booklet with glue, the booklet can be no larger than eight pages!
An eight-page book requires two sheets of paper, printed on both sides, folded in the middle, and bound at the spine. We were introduced to a better method of binding for eight page publications, instead of stitching on the spine, we paste bind page two to page three during the folding process, thus eliminating the stitching entirely.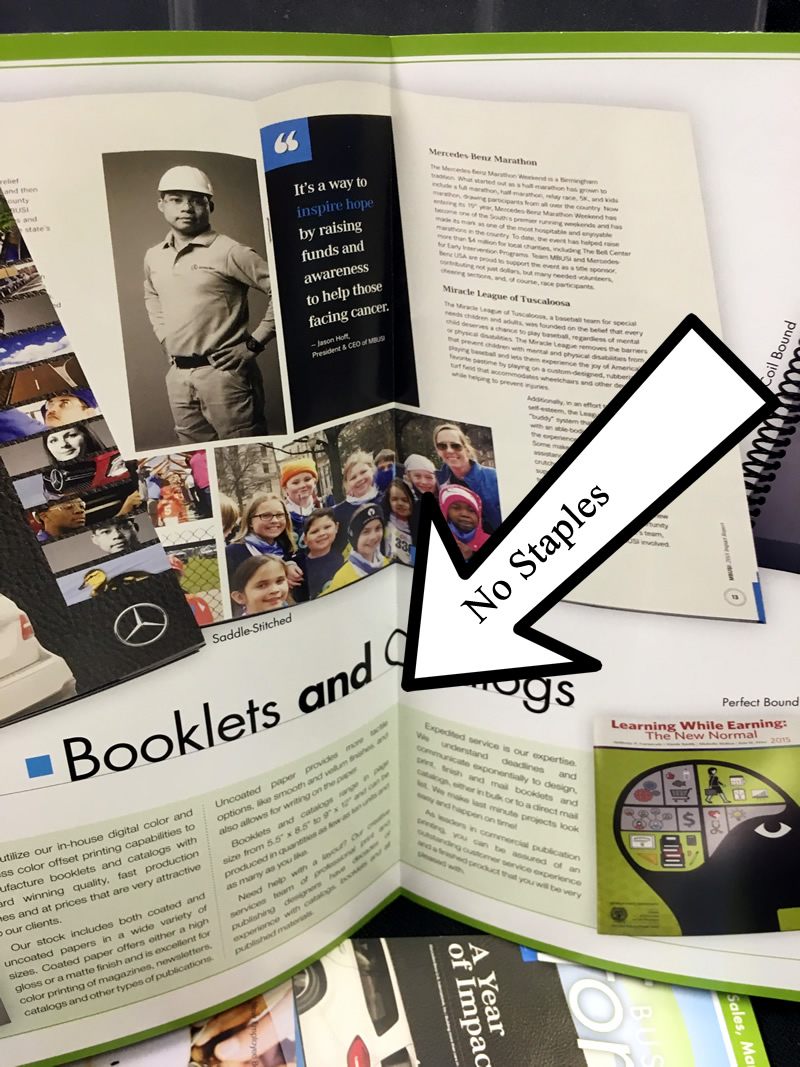 Paste Bound creates a very professional "Lay-Flat" booklet
with a smooth impressive spine.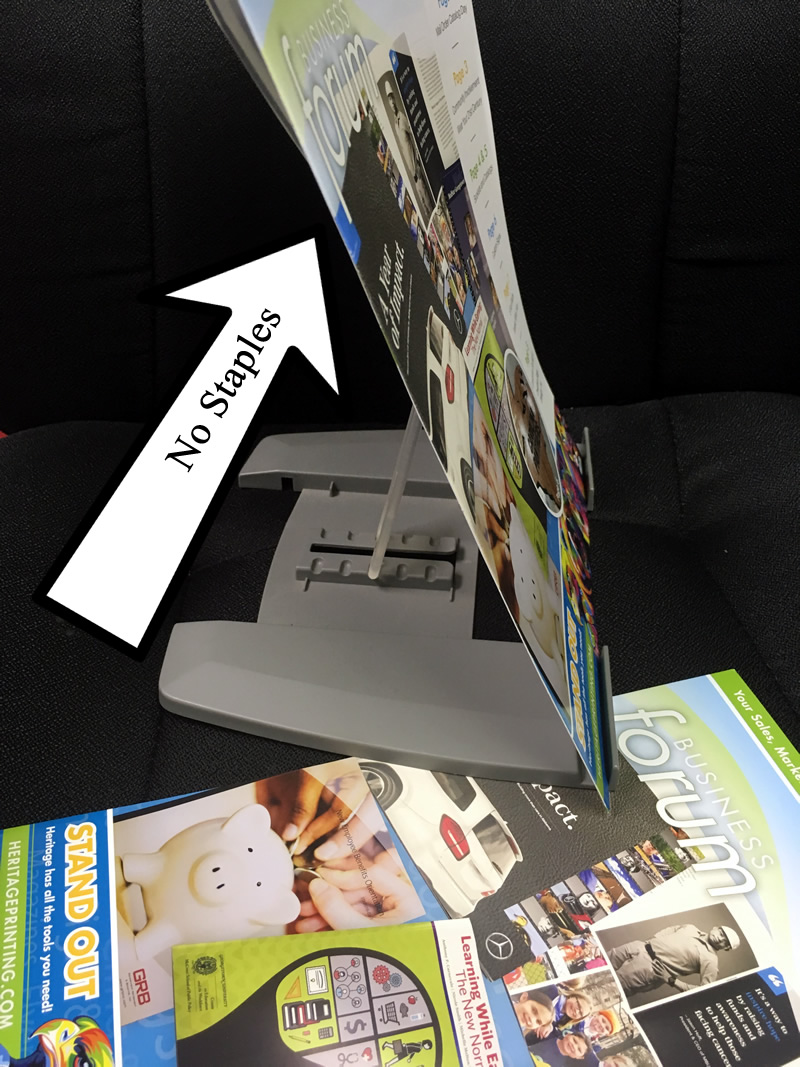 My first introduction to paste bound was at the arrival of our August 2016 newsletter, immediately I knew something changed. As I shared the newsletter across our Charlotte office it became more obvious, there was no "hump" in the spine, our newsletter laid flat on our desks!
The stitching process widens the fine crease at the spine, therefore adding a "hump" in your booklet, catalog or magazine.
Lay-Flat, Staple-Free publishing is highly favored by all Post Offices; the elimination of the staple removes many headaches in their system. Staples get "hung-up" in various ports, get torn out and cause an intrusion into the machinery, and the list goes on. Ask any Postal worker about paste binding vs. stitching and they will rant for hours about the benefits of staple free publications.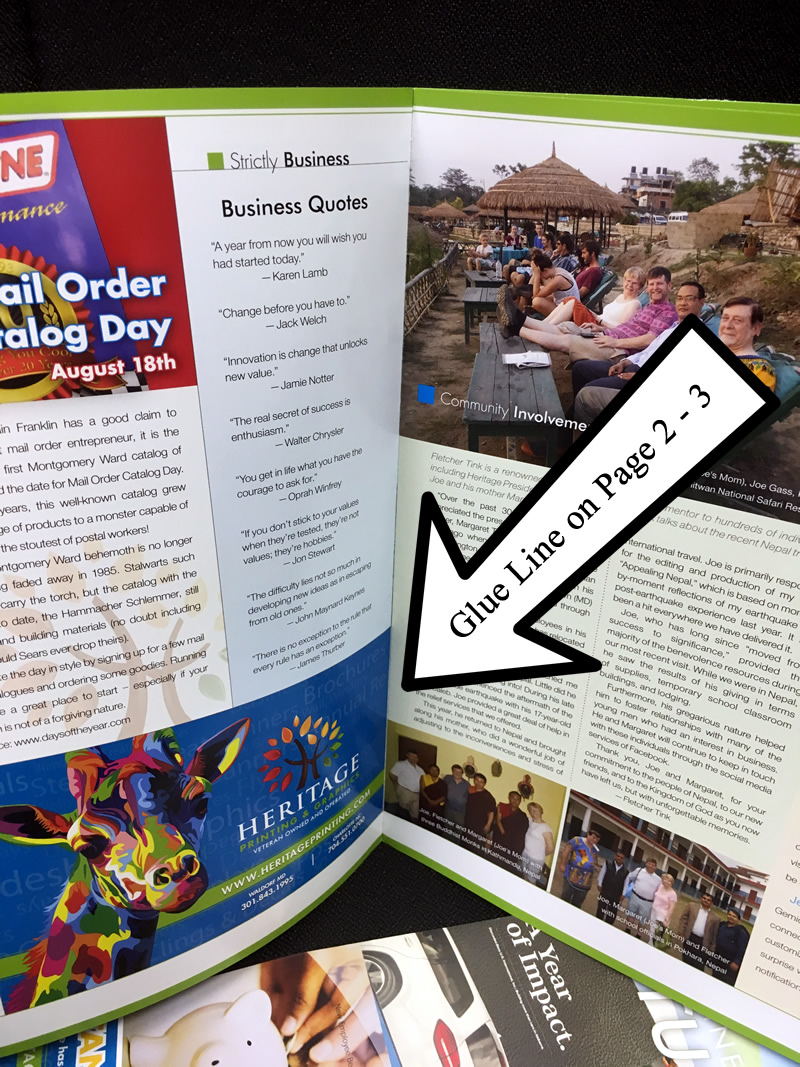 Steve Qureshi, Bindery Supervisor in Waldorf, has used paste binding for years. He brought in his own paste binder attachment (Steve previously owned a print shop) and set it up on our machine, it worked great! The attachment places a fine bead of adhesive precisely between the designated pages, too much glue and it spreads, too little and it doesn't adhere properly, it's a fine line to perfection.
It's been several months since we first offered paste binding to a few select customers as part of our testing, everyone had positive reviews, especially our Postal friends. Stop by our Waldorf or Charlotte production facilities to see samples of our paste binding capabilities.
Joe Gass
Heritage Printing, Signs & Displays
A Veteran Owned Company That Seeks To Honor God By Serving Others
2639 Connecticut Ave NW, Washington DC 20008 (202) 609-9761
2739 Interstate Street, Charlotte NC 28208 (704) 551-0700
2854 Old Washington Road, Waldorf, MD 20601 (301) 843-1995